It could just be because our mailbox is currently being flooded daily with campaign and election flyers.  It could be because I've completely abandoned my time-honored system of dealing with catalogues and am now looking at a HUGE stack on my counter.  It could be because I've spent the last two weeks being injured and sick and am just longing to get back into the swing of things.  Whatever the reason, I thought today would be a good day to think about handling the daily mail, including what to do with all of those magazines and catalogues.
As with anything in your home, having a system in place makes managing the daily mail easier and more efficient.  Here's what I've found works best in my home.
I have a bit of a walk to my mailbox.  Walking back up the driveway gives me a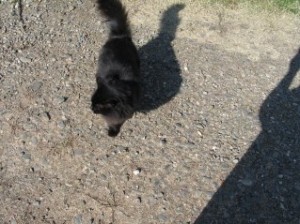 chance to sort through the mail a bit.  Well, usually.   On some days the stack of mail absolutely fills our large rural mail box, and it's all I can do to bundle things together and get them up the drive without leaving a trail of flyers and missing children cards in my wake.  Every trip to the mail box necessitates a scratch on the head for our resident rodent control expert, Miss Meow.
My first stop is the garbage can.  I place all of the mail on top of the recycling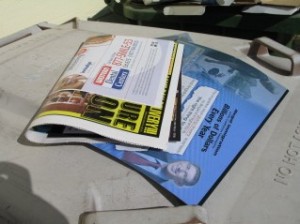 can and then plow through the stack.  There wasn't too much mail today.  This time of the year, with all of the campaign flyers and such, I sometimes deposit 90% of the day's mail into the garbage can!!  Please do not think that we don't take election time and voting seriously.  We most certainly do!  However, we do our own research on the candidates and for the ballot measures and do not use the mountains of stuff sent to us, unsolicited, through the mail.
Once the junk mail has been taken care of, the rest of the mail is brought into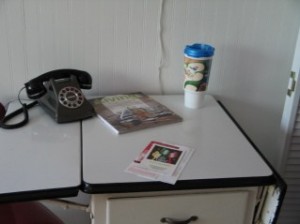 the house.  The only mail that made it past the garbage can today, were two bills. 
Any mail for Dani is delivered to the white table in her room.    If my boys get any mail, which doesn't happen often, they are given their mail immediately.  The only exception to this is the thirteen year old's Lego Magazine and catalogues, which he receives at the end of the day AFTER homeschool and chores are completed.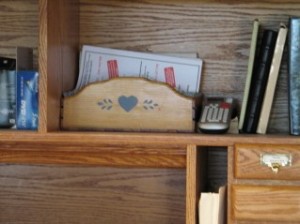 I pull out my personal mail and put all the bills and other mail for Copper in the wooden basket on our big  desk.
I usually try to sit down and look through any personal mail of my own right away.  If I can't, I put it next to my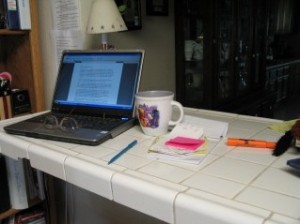 electronic brain lap top and take a look at it as soon as I can.  Invoices for things I've ordered are either paid immediately, or are put into Copper's bill paying folder with a note asking him to pay it for me at a later date.  Flyers for special deals and/or sales are either noted on the calendar and then thrown away, or they are just tossed without calendaring.  Invitations requiring an RSVP are usually dealt with by an immediate phone call, or an e-mail is sent.  The invitation date and time are then put on the calendar and the invitation is then tossed.
Book club mailings are also dealt with immediately.  I open them up when I get to my personal mail, quickly look through all the flyers and monthly offerings, toss the whole thing away, and then go to the computer to either order up the monthly selection or to decline the monthly selection.  Done deal and no postage necessary.
Periodicals – Our weekly local newspaper usually makes the rounds through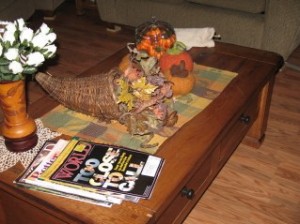 whatever family members are home on Wednesdays, and  it is then put into the recycling basket in the kitchen.  If Copper is working on Wednesday, the newspaper gets put into his mail basket with the other mail after the rest of us have read it.  The World magazine always goes to Copper first so he can take it to work to be read during breaks.  The rest of us read it when it comes back into the house.  World, and most other magazines, end up on the living room coffee table.
Once a month, when I'm spending a week doing the more thorough cleaning of
the living room, I sort through the magazines on the coffee table and place the out of date ones into the recycling basket.  Home decorating  magazines will often wind up in the basket in my parlor at that time.    This basket can get pretty full during the warm weather months.  Beginning this time of year, however, I will often spend a bit of time in the evenings just before Copper gets home going through these and tearing out the pictures that inspire me for projects in my home.
After the pictures are torn from the magazines, they go here. 
I keep a file folder for each of several different areas in my home (kids' rooms, living room, kitchen, master bed & bath, laundry room, back yard, etc.) or for types of projects (gift ideas, Christmas decorations, kids' crafts, seasonal/holiday ideas, etc.).   I splurged and bought one box of pink hanging
folders for these magazine clippings!  The magazines are then either recycled, or passed along to someone else (only if I haven't torn too many pages out of them!)
We do receive two magazines that we use in our
homeschooling.  The new issues of ZooBooks and Nature Friend magazine are put immediately upon arrival into these magazine holders on one of the nature bookshelves in the schoolroom.  (It's hard to see Nature Friend, but they are in a clear magazine holder just to the right of the ZooBooks.)
Catalogues – I have a love/hate relationship with catalogues.  I really do.  I  LOVE pouring over homeschooling catalogues to see what's new or what might be on sale.  I LOVE looking through catalogues like Gooseberry Patch, Terry's Village or Timeless Treasures.  I LOVE browsing through the clothing catalogues
and seeing what's new.  This time of year, especially, I LOVE looking through the Highlights for Children, MindWare (not to mention Vision Forum!!) and other children's catalogues looking for unique gift ideas for my children and grandchildren.  However, I HATE what happens with these catalogues after they come.  Yep, this picture shows the current state of affairs here at command central (the tiled counter in my schoolroom where all homeschool and home maintenance business is carried out).
I do, however, have a pretty good system for dealing with catalogues (when I
use it!). 
That's what happens when you ignore your own advice!!   Here's where the catalogues are SUPPOSED to go.   Anytime a new catalogue comes into the house, the old edition is pulled out of the plastic organizer, tossed into the recycling basket, and replaced with the new one (after I've looked through it, of course!). This way, anyone can find a particular catalog fairly easily and they are not cluttering up our home!!  These holders are on the top of the bookshelves just to the left of my lap top, and are within easy reach for me when I'm working there.  The magazine holders can be purchased very inexpensively (the last ones I bought were 3/$3.00 at WalMart), and I use them not only for the catalogues, but also for the boys' ZooBooks and Nature Friend magazines.
Wading through stacks of old magazines and/or catalogues once every few months can take hours.  Losing coupons or forgetting to return a book club mailing can be expensive.  Taking care of the mail, including the magazines and catalogues, right away and having a place for everything to go, takes only a very few minutes a day, AND saves you time and money in the long run!
Do you have a system that works well for you? How do you deal with the stacks of mail, magazines and catalogues?  Let me know by sharing your tips in the comments.  We can all pick up some great new tips from one another.
God bless you as you look well to the ways of your households!
Proverbs 31:27
Remember to pray for Karen!
See the most recent update by clicking the link under her picture in the sidebar.