Things were a bit slow on the sewing and crafting front this week.  I haven't felt really well all week; and yesterday, Friday, the bug finally caught me and threw me to the mat for the 10 count.  I think I'm on the mend today, though the letters on the screen here seem a bit fuzzy.  I'm thinkin' it's just my glasses that need to be cleaned.
I'm a bit over half way done with Corin's dish towels.  I finished the fourth one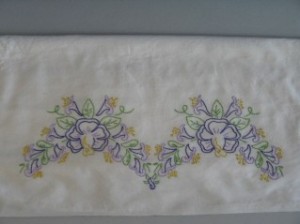 (of eight) earlier this week.  I think this one had the largest design with the most stitching required.   Purple pansies have always been a favorite flower of mine, so stitching this was fun.  You can't tell from the picture, but the pansies are done with a bright purple, with lavender accents.
The fifth towel was started last evening and it's going quickly.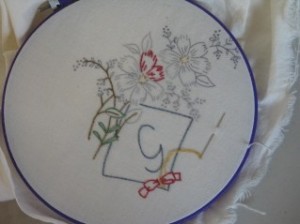 I strayed from my preferred four color palate a bit with this one, and have five colors going.  These are all more muted shades of red, blue, green, yellow and a brown for the stems.  Not sure what these flowers are.  Marigolds, maybe?  Anyone have any ideas?  Not knowing, though, freed me up a bit in my color choices!
Remember the purse I made last week from the left over skirt fabric?  The way that silly skirt is cut out, leaves LOTS of fabric left over on the selvage edges.  I cut out a matching make up bag and put that together this week, using the same Simplicity pattern (#9949) as the bag .  The make up bag is view G.  I used some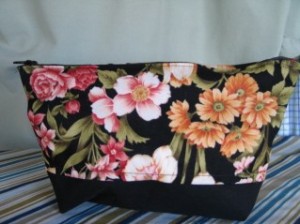 plain black fabric for the contrasting bottom.  The make up bag is self-fabric lined which makes it very nice.  It went well until I opened up my 9″ zipper package and discovered that there was a 6″ zipper inside.  I double checked the label, and I had purchased a 9″.  The manufacturer had made the mistake at the plant.  Grrrrr…..  Fortunately, I had a 12″ zipper on hand, which I was able to shorten and use.  The make up bag is a nice size and fits nicely into my purse and keeps all my cosmetics, hair brush, etc., all in one place.
I also cut out and put together this tissue holder (all from that same $1.99 on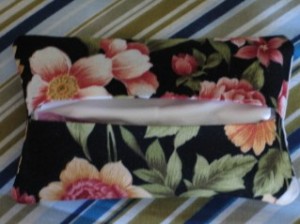 sale Simplicity pattern!).  It was a breeze to put together and is self-fabric lined.  I'm pleased with it.  It's not nearly so nice as the beautiful ones that Deb at Homespun Living sells in her Firefly Farm Shop, but I made it from an on hand pattern, with on hand fabric, and it matches my purse!
Dani says that I'll have everything matching in my purse and won't be able to find anything because it all looks the same.
On the knitting front, I'm still making knitted sachet bags. I have that pattern so committed to memory now that I can work on those while riding in the car with Copper.  Makes the drive go quicker!  I have several of these knitted, but they are all still languishing in my WIP bin to have the muslin linings sewn and to be filled with the various fragrances (lavender, rose, lemon, french vanilla).
Last, but not least, I also finished all eight of the wedges I need for this felted pumpkin.  Dani surprised me last week and had made one up for me as a gift.  It's so cute!!  I'd thought I'd wait and knit mine up for next fall, but I got bit by the felting bug once I saw that pumpkin!!  We bought all of our yarn from Knit Picks in July, so I just chose a color from my stash and went for it.  I still have the top to knit and then the whole thing to put together and felt.  I'm looking forward to it.
A couple of last things.  First of all, for those of you who sew, have you been running into the craziness that is 44″-45″ fabric?  Hello?  It's not!  I have bought several pieces so marked now and they have been closer to 43″ BEFORE pre-washing.  This strikes me as being very dishonest on the manufacturer's part.  Dani went to JoAnn this week to use a gift card for some corduroy for a skirt.  Her fabric was honestly marked 42″.  However, I have bought piece after piece of fabric this year for Christmas gifts that is marked 45″ that has been anywhere from 42″ – 44″, very few actually measuring the marked 45″. Proverbs 20 speaks to this very thing:
verse 10: "Unequal weights and unequal measures are both alike an abomination to the Lord."
and
verse 23: "Unequal weights are an abomination to the Lord, and false scales are not good."
Not only is this dishonest, it makes it very difficult when the pattern you are using requires 45″ fabric.  I am usually able to maneuver pattern pieces around to make it work.  Or, in the case of the Nora aprons I make, I just take a little off the fullness of the bottom of the skirt.  Still this doesn't make it right!  From now on, I will take my little purse-sized tape measure out and measure every bolt before I buy and will report any shortages to the store manager.
To those of you who have been knitting for awhile, I have a question to ask.  Is there a web site available that allows you to plunk in a given yarn's weight and yardage that will resize the gauge for you to a different size needle?  And that might also allow for fiber content differences?  Too much to ask?  We, Dani & I, have several patterns that call for yarns that are either no longer available or are prohibitively expensive.  We've been able to go to Knit Picks and figure out some conversions, but not all.  Dani is looking at a free download sweater pattern now that calls for about a dozen skeins of $13/skein yarn.  Yeeeouch!!!  No can do.  Dani says, "But it's so cute!".  We've been able to find a yarn that seems to be the same weight and fiber content, but the gauge given for the yarn uses smaller needles than the sweater pattern calls for.  Since this is for a garment to be worn, we want to be sure that she is able to knit the sweater to gauge to achieve the correct size.  Any help you can send our way would be appreciated.
Have a blessed Lord's day tomorrow!
God bless you as you look well to the ways of your households.
Proverbs 31:27