I want to thank you all so much for your kind wishes and prayers for me this week.  I've had my back go out on me before, but NEVER like this!  I'm tellin' ya, the pain makes transition labor pain pale in comparison!  I am back on my feet, sorta.  As of 5:00 a.m. this morning, I'm still taking the full dose of both pain relievers, but I've got to get back to some sense of normalcy.  I'm due for pain meds in a few minutes and I'm going to do just half a dose and see how I do.  Narcotics are good things, but I'm tired of the buzz, you know?
All has not been lost at Copper's house, though.  All that down time has been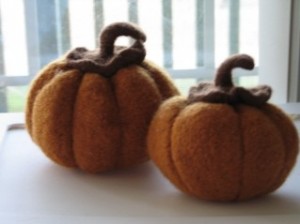 somewhat productive.  I finished knitting the first of my pumpkins, and then started and finished a second, smaller pumpkin.  I'm going to blame it on the drugs, but the concept of using four double pointed needles and knitting in the round for the tops of the pumpkins, totally escaped me the first time.  Believe it or not, I was, somehow, knitting the silly thing upside down!!  Go figure!!  After tearing it all out, twice, I finally got it.  The top for the second pumpkin went just fine.  By jove!  I think I got it!  The free pattern is available here.  I knitted these two pumpkins up in Knit Picks Wool of the Andes,
pumpkin color for the body, and chestnut for the tops.  I am totally hooked on felting projects now!!  Too fun!
I also finished Corin's fifth dishtowel.  I do apologize that I didn't bother to iron these before snapping the pictures.  The caution label on the Rx I'm taking says not to use heavy machinery while taking, and I'm pretty sure that an iron qualifies as heavy machinery!
The sixth dishtowel was also finished.  The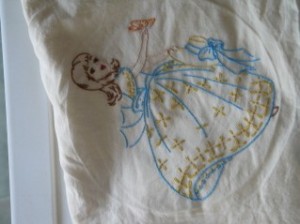 colors in the photo aren't nearly as pretty as in person.  The turquoise and the yellow are really very pretty together.
And I am almost done with the seventh!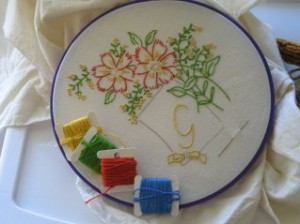 I didn't remember that the seventh dishtowel was the mirror opposite of the fifth towel until I was working it up.  I did the colors so differently, though, I don't think they'll look too much alike in the long run.  The eighth towel is another southern girl, and I have the colors for her all picked out ready to go.  She'll be done up in Americana colors. I should get her started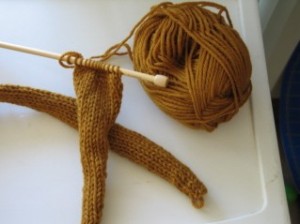 today.
I also have another pumpkin started, a pretty, almost golden, pumpkin.  This one is being knitted up in Knit Pick's Wool of the Andes – Wheat color.
And one of my Works In Progress  turns 13 today!!!  I will no longer be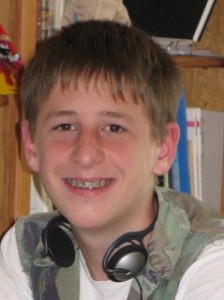 blogging about "the twelve year old".  My oldest son is a handsome young man of  13 today!  Makes me wonder where the time has gone.  He is now a good five inches taller than me
and the voice I hear singing in the shower these days is deeper than even Copper's beautiful tenor!  Copper is taking off a few hours early from work today so that we can take the thirteen year old out for dinner for his birthday.  He absolutely loves the family style Chinese restaurant in a little town close to home, so that's where we're headed. Happy Birthday, son!!  I love you lots!
God bless you as you look well to the ways of your households.
Proverbs 31:27