Well, the time has arrived that I've been dreading.  The Works in Progress that I most long to show you are destined to be Christmas gifts for family members who read my blog.  Sigh.  Well, I will definitely take pictures and have quite a post-Christmas finished projects post!
Here are some things I can show you!  I began working on this knitted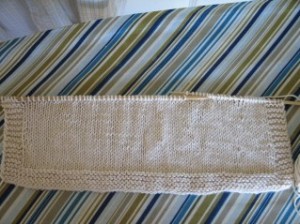 monogrammed pillow for our living room couch.  The pattern is found in a book I've mentioned here before, Simple Knits for Cherished Babies, and is meant to be made into a cushion/pillow for a stroller. Bah!  A 16" pillow for my couch is what it will be!  I'm using Knit Picks Shine Worsted yarn in Cream.  This is a 60% Pima Cotton, 40% Modal yarn.   I didn't much care for the feel of it coming off the ball, but oh, how I love the look and feel of this yarn knitted up!  It is very soft, almost silky, and there is a bit of a sheen to the knitted work.  The pattern is very simple.  The majority of the pillow is done in stockinette stitch, with garter stitch borders.  The initial will be worked from a chart.  This will be my first time working from a chart, so I'm glad it's an easy project.  One of my knitted Christmas projects is challenging me a bit, so having this easy one to work on is nice for relaxing.  This is a nice, take along project and one that I can knit while riding in the car.
I ordered these Bryspun Flexible knitting needles from Knit Picks to make the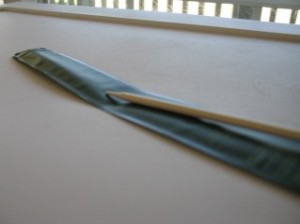 pillow.  Maybe others like them, but I do not!  There is quite a ridge on the needles between the narrow point and the body of the needle.  Each and every stitch seems to drag as it passes over this ridge and I just do not like the feel of that. Fortunately, hmmmm…..unfortunately?…..anyway, I made a mistake in one of the early rows of the pillow and had to rip out a couple of rows to fix it.  Just because the pattern is easy doesn't mean I can't blow it when I'm talking and not paying attention to my knitting!  Since I was ripping out anyway, I decided to just rip out the whole thing and buy some size 7 needles in my favorite bamboo.  Aaaahhhh, that's more like it!!
Anyone like the Bryspun Flexible Needles?  What sorts of knitting needles do you prefer, and why?  I've used metal needles, cheap plastic needles, the Bryspun Flexible needles, and bamboo; and I'm really liking the bamboo.  The double point needles I've been using are bamboo and they are so smooth to work on, and so comfortable in my hands. I even like the sound of the bamboo as I'm working!
I will say, though, on Knit Picks behalf, that I have been extremely satisfied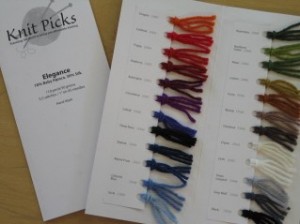 with all of the yarn I have purchased from them.  So has Dani.  So far we have ordered yarns from the Shine Worsted, Shine Sport, Palette, Wool of the Andes, and Andean Silk lines.  It's all been of very good quality and you can't beat their prices!!!  We are taking the extra step, now, of ordering their yarn color cards for the yarns we're interested in buying.  For the most part, what we've seen on our monitor is what we've received, but there were a couple of times the colors were just a bit off.  Not Knit Picks fault, of course, just the differences in color settings between equipment. The color cards are a good deal at just $1.99 each and are done very nicely, with the added benefit that you can actually feel the yarn before buying.
Finished up the dish towels!  Yes, I did.  Here's how the last two turned out.  I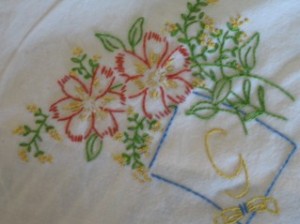 cut off the frayed edges of the ends and ironed up a narrow hem and machine stitched them.  I was going to use embroidery floss to hand stitch in a hem using a running stitch.  That's how my mom did the ones she made for me.  However, all of my towels lost their hems quite early on.  The floss seemed to break easily in the hems of them for some reason, even though the stitched designs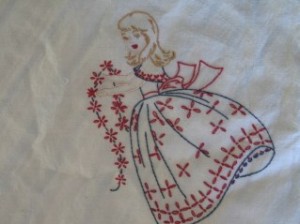 have endured.  Anyway, these were machine stitched and are ready for me to give to Corin when I see her this evening.  (One Great Grandma turned 103 this last week, and tonight the family will gather as the other Great Grandma celebrates her 101st birthday!!)   It makes me feel very melancholy to let these dishtowels go.  It's the first time I have finished a project that my Mom had intended to work on.  A labor of love this definitely was.
One other thing that I started awhile back and worked on quite a bit while I was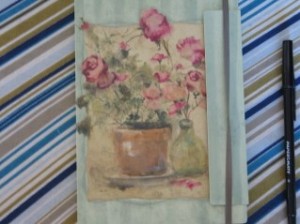 down with my back is this project notebook.  I picked this pretty little notebook up at Wal Mart for under $4.  It has a rather flexible binding, with an elastic band closure; and I love the pretty cover and printed pages.   I'm writing all of my projects down on a page in this notebook and including any and all information I think might be useful in the future.  For example, on my knitting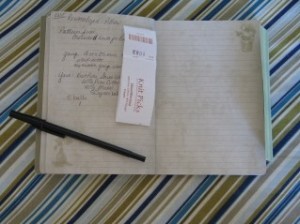 projects I've listed the yarn I've used and the size needles, along with how my gauging swatch turned out, and any changes I needed to make.  I'm also making a list of folks I've given my handmade items to for gifts.  I'm now including the wrapper from the balls of yarn on the project page, and will insert fabric swatches from my sewing projects.  Do you keep a project notebook?   I'd be really interested in hearing about it in the comments box.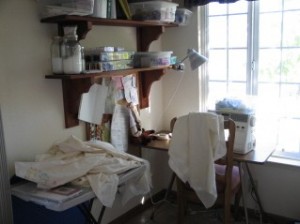 Debraann left a comment awhile back on how organized my sewing nook looks.  Hmmm…..I think it's because I always show pictures when projects are completed and everything is put back away.
Here's a picture of what it looked like yesterday while I was hemming Corin's dishtowels.  Not the worst it can look during the week, but not neat as a pin either!
That's all that was in the works this week.  All things considered health-wise for me, I think I did pretty well!
God bless you as you look well to the ways of your households.
Proverbs 31:27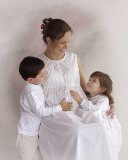 Remember to pray for Karen.
(For current updates, click the link under her picture in my sidebar.)