The big news for today is MY DRYER IS FIXED!!!  Finally, finally, finally!  The dryer guy came Friday afternoon and put in a new motor and it has hummed along beautifully all day.  Clothes are drying quickly and thoroughly and the buzzer "honks" (as the seven year old says) and all is well in my laundry world!!  YeeeeeHAAAWWWWW!!!!
I finally finished Dani's retro apron and a couple of matching pot holders for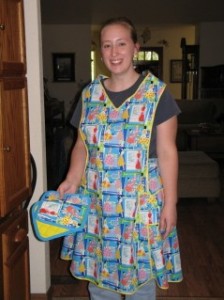 her.  She said that she didn't mind my taking so long to finish them up because, now that they're done, she has to put them away into her hope chest.  She's been enjoying looking at the fabric for the last few weeks while the apron was just hanging, incomplete, in the sewing nook.  There were some things about this pattern (Simplicity 4692, View A) that I didn't like, such as closing the nick with Velcro (I used buttons!); but it is a very cute, retro looking style, and very flattering when worn.
I'm a little over half finished with the fourth of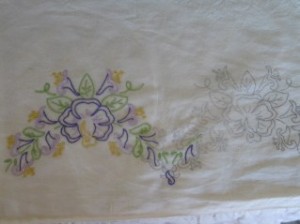 Corin's eight dish towels.  This one has more design stamped on it than the others have, so it's taking longer.  I'm enjoying working this one, though.  There's plenty of variety in the colors and stitching.
I finally got my skirt (Simplicity 5463) cut out and sewn up this week.  This is a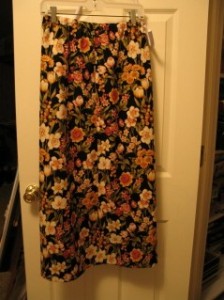 quick and easy skirt.  Not counting the time to cut it out, it went together in less than three hours (and that's with the normal mom interruptions going on).  Next time will be really fast.  It's cute on, too!  I can see that this will soon be a favorite, quick pattern for skirts.
It doesn't really count as a WIP or completed project, but I wanted to show you this cute twin set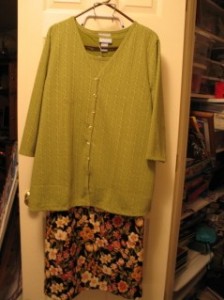 that I scored at my favorite plus size store yesterday.  The green matches the green in my new skirt perfectly, and is just the right length to really make the outfit.  The twin set was priced nicely, too!  I love shopping at the plus size store!  I get to shop at the "skinny" end of the racks there!
I was pretty sure that this bag was going to be a WIP this evening, but I finished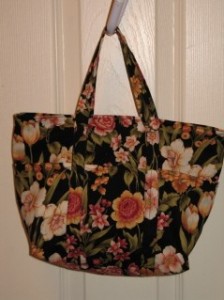 it up just at dinner time.  This is the very first ever bag I've made.  I've been aching to do one for quite awhile now.  There was a lot of fabric left over from my skirt because of the way it's cut out, so I thought I'd use that up and give it a try.  I'm pleased with the outcome.  I think I'm a visual/pictorial learner, though.  The written instructions, at times, just didn't make sense to me; but the pictures and my "doing" as I was reading  got it put together.  I did have to use my seam ripper once, and decided to baste in the top with the zipper the first time (luckily!).  The next one will be much easier.  The was Simplicity 9949.  (Remember all those Simplicity $1.99 patterns I bought awhile back – See?  I've been using them!!)
Have a blessed Sunday tomorrow!