Earlier this evening I wrote down the names of all of you who left comments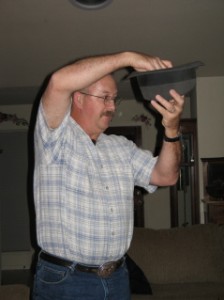 on slips of paper.  If you left an apple recipe in the comments section, I wrote your name down twice.  At 10:00 p.m. (PST), I checked for any last minute entries, and then Copper drew the winner from the hat (literally!)
The winner is
Mrs. Brook!
(mrs.kbrook)
Congratulations Mrs. Brook!!
Mrs. Brook, if you would please e-mail me at linebargATsoftcomDOTnet (replacing the capital letter words with the appropriate symbols) with your name and street address, I will get the package off to you asap.  Also, let me know if you have a blog or web site address as well.
Thanks to all of you who entered.  It was great hearing from some many new faces!   I'll be working on getting all of your wonderful apple recipes together and posting those later this week.  Have a blessed Lord's day tomorrow.
God bless you as you look well to the ways of your households.