It's almost the first of November.  Yep, hard to believe, but it's true.  For some of you, this means that homeschooling has been back in full swing for two months.  How's it going?  Finding some things that are not quite going as well as you'd hoped?  Surprised to find that something you thought might not work out has been the hit of the year?  I've been a full-time homeschool mom since September of 1989, and I've come to expect things to need some tweaking mid-fall.  All well-oiled machinery needs a periodic tuneup to keep it humming along and performing well.  Your homeschool is no different!
Finding out that the math curriculum you bought, or the grammar program that was so highly recommended, is just not working out for your family does NOT mean that you have failed.  However, you may need to make some brave decisions.  If you really feel that a particular part of your curriculum is just not working for you, ask yourself the following questions.  Some of them might be hard.
Am I using the curriculum as specified by the publisher?  Often times we try to take shortcuts and not use all of the program components, and this can result in failure.  Be sure you are using all of the program's recommended components.

Am I offering enough teaching time and/or parental oversight.  I know that I can er on this myself as my children get older.  It seems they are working along fine independently, then suddenly they hit a brick wall.  That's when I realize I could have saved them a lot of grief had I been reviewing their work with them all along.
I recently read a blog post (I'm sorry, but I can't for the life of me remember where!), where the mom had several children learning to type using Mavis Beacon.  A couple were doing great, but her daughter just was still struggling in using the keyboard for her other tasks.  The mom recommended more practice with Mavis Beacon.  Hearing her daughter muttering, "numbers, numbers, I'm sick of numbers" prompted her to do some checking up.  The poor daughter's settings on the program had somehow been changed to using only the 10 key number pad and NOT the normal keyboard at all!!!!  I laughed when I read it, but it has prompted me to be more aware of all aspects of my children's schoolwork.
3.  Is this a discipline issue?  Okay, I said the questions would be hard.  Is this program really not right for your child, or is your child flexing his will and just refusing to learn it?  My thirteen year old just does not like math.  Early on it was very difficult for us to determine whether or not the math program we were using was not right for him, or if he just doesn't want to do it.  Period.  Be sure you know your kids well enough that you can tell the difference.  If it is a discipline issue, you need to nip it in the bud NOW before it grows to more than just math (or English, or history) and becomes a larger problem in your home.

4.  Is there a way to tweak what you already have to make it work for your child?  For example, if your curriculum is strictly geared toward a visual learner, and your child is definitely a hands on learner, can you make some hands on resources to assist?
The handwriting program I have always used is, basically, just a workbook.  Beginning learners trace the dot-to-dot letters on the pages to learn to write them correctly.   When he was a little guy just learning my oldest son could do this until the cows came home, but after weeks of practice, he still could not write any letters without the dot-to-dot printed prompts.  Enter a pan of cornmeal.  I filled an 8×8 baking pan with about an inch of cornmeal.  Good and gritty, lots of texture.  He then began tracing his letters with his finger into the cornmeal.  He memorized them all in just a couple of weeks!  I didn't need to find a new handwriting curriculum.  I just needed to find a way to make it work for my son.
5.  Is it just wrong for your child/children/family?  There have been times that I've had to answer, "yes", to this question.  That's hard.  Not only do I have to swallow my pride and admit that I made a bad choice for our homeschool, but there have been times when this has meant a rather large monetary mistake as well.  If you think this might be the case, you will definitely want to discuss options with your husband.  Most of us (homeschoolers) are one income families, and realizing that the $150 math program you bought is just not working is tough!  Can it be resold?  There are lots of options for selling used curriculum and many areas have used curriculum sales  annually.  Does a friend have another program that might work better for you just sitting on her shelf this year that you can borrow?
Be sure to work through these questions prayerfully if you're finding you might need to make some curriculum changes midyear.  Be sure to ask your husband what he thinks.  Consult another homeschooler, if you think it would help; perhaps someone with more years of homeschooling experience than you have, or someone you know who has successfully used the program you're finding difficult.  Pray some more.  Talking with your kids can be a good thing, too, so
long as they realize that you (and/or Dad) are the ones making the final decisions  and not them.
Whatever you decide, remember that you are homeschooling for the eternal benefit of your children.  That thought always brings everything back into proper perspective for me.
God bless you as you look well to the ways of your households.
Proverbs 31:27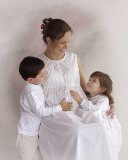 Remember to pray for Karen!
(the link to her site is under her picture in the sidebar).