Several little random things popping up that I want to share.
First, two of my favorite singers are both releasing albums in November.  Do we still call them albums????  Anyway, Dani discovered that both Andrea Bocelli and Josh Groban have CD's coming out in November.  I can listen to those two sing until the cows come home.  Looks like I need to update my Amazon wish list.
Speaking of Dani, she did post her Monster Chocolate Chip Cookie Recipe yesterday.  I love that girl!  She picks the best sound bytes for her blog, too.  Funny stuff usually.  She has one up now from the movie Master and Commander.  If you know the movie, you likely know the conversation.  However, if you're a devotee of the books by Patick O'Brian, the conversation will crack you up.  Every time you hear it.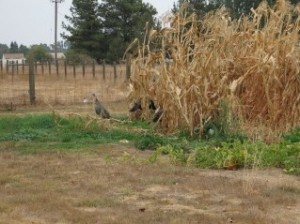 We are overrun by turkeys.  The goofy birds are everywhere, and seem to take  no notice of the fact that they are sharing space with humans.  I've posted pictures before of the silly things on top of my van.  They were inside the garage the other afternoon, though they were performing a valuable service – eating up the spilled cat food.  There are turkeys in our corn….
There are turkeys on our front lawn……..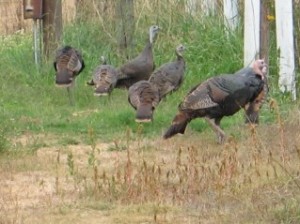 There are turkeys out by our well pump…….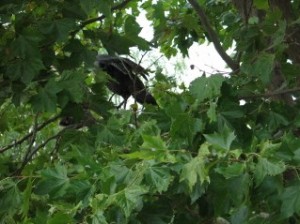 And there are turkeys in the Sycamore tree just outside of the front of my house!!!!!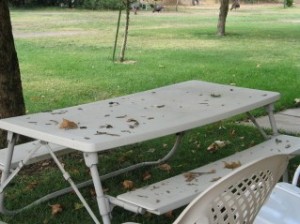 I used to romanticize about living in the country and having wildlife sharing my space with me.  I mean, think about it!  Flocks of wild turkeys grazing peacefully on your front lawn and taking shelter in your trees.  Sounds idyllic, doesn't it?  The truth of the matter is this.  Where there are turkeys in your trees, there is this on the table below.  What I want to know is, who is going to clean that mess up?  Hmmmm????  Maybe it will rain.