I promise, I really do, not to dwell forever on children with special needs.  But as I claim in my blog title, as well as in my side bar, I'm going to blog about bits and pieces of my day – the good, the bad and the not-so-pretty.  Right now, the bits and pieces of my days are consumed with looking for ways to help my seven year old son.
As anyone knows who is a parent, there are times when, for one reason or  another, one child seems to be on the front lines of our parenting.  In my years as a mom, I can give examples of times when each of my four children, at one time or another, have required more than their fair share of my time as a parent.  There have been weeks, over the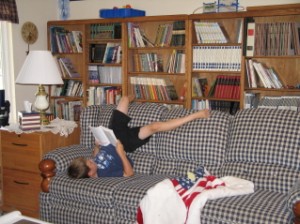 course of the last couple of years, that have been involved in prayer, research, prayer, doctor's appointments, prayer, observation and more research (did I mention I prayed a lot?) working on how to best help my seven year old son.
However, the time spent is not the issue here.  The thing I want to share with you today is how the Lord has used this experience with my precious son to not only humble me, but also to check my judgmental spirit.
I was a woman who, when viewing another mom struggling with a child, would smugly think to herself, "All that child needs is some discipline."  Oh, I cringe even now thinking back on that!
I know now what it feels like to hear that from others.  I know what it's like to have the Wal Mart lady stop in her tracks and watch, with contempt on her face, as you help your child extricate himself from the four inch tall bottom rack of the shopping cart.  It only took him two seconds to get in there while you were putting the mascara in the cart,  but it takes MUCH l-o-n-g-e-r to get him back out.
Lately I've heard, "Oh, he's just your youngest so he's spoiled.", and, "He's the youngest so he gets away with more."  Truth be told, my youngest child has received plenty of biblical discipline.  In many, many ways, we've been tougher on him.  I do want to hear others child training tips that have worked for them with their kids; but I hope they understand that I probably know those same tips, and have used them successfully with my three older children.  The deal is, they just don't work the same with a child whose brain functions differently.
I miss my son.  He was the boy who was always smiling, who was always full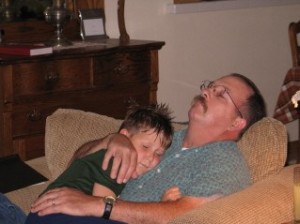 of mirth and merriment, and who was so affectionate that we came up with the term "drive-by lovin's" to describe the way he'd breeze past us, backtrack to give us a tight hug, and then move right back along.  Oh, it was precious!!  I don't see that little boy often anymore.  He began disappearing when he was three or four.  I see glimpses of him; but, for the most part, that joyful little boy is gone.  In his place I have a child prone to emotional swings, "meltdowns", a boy who is frequently found wandering aimlessly, and a boy who cannot be still.  Nope, he really can NOT.  He even moves constantly in his sleep!
I don't know how to parent this boy.  I don't have the strength, the wisdom or the skills.  But I don't need them.  Much as I love my son, God loves him infinitely more.  That's almost unfathomable to me.  I love him so much, and yet God loves him even more.  So much that he sent His only son to die on the cross for my son!  God knit my seven year old together in my womb, knowing full well the child He was creating there.  I don't need strength, wisdom or skills of my own.  They'd be useless even if I had them.  I need the strength that comes from faith in the Lord.  I need the wisdom that comes only from time spent in prayer and reading the Word.  I need the skills that the Lord has already blessed me with, in His omniscience, to help my seven year old grow up to be a godly Christian man, husband and father.
I am so humbled by this.  I am humbled by my constant need for God's help in all of this, and I am humbled that He would think me capable of raising this boy.  I am even humbled that He blessed me with this boy so late in life.
I have also learned not to judge other parents.  I am ashamed of my former "know-it-all" parenting attitude.  I have learned, instead, to pray when I see a mom, or dad, struggling with a child in public (though I confess to being less compassionate with parents who are behaving badly!).
I have learned to smile at the child who HAS to touch every other hanger on the rack, and HAS to go back if they miss one.  Yes, they really do HAVE to do it.  When our pediatrician asked our son what it felt like to not do something he had to do, he grimaced and made a very painful expression, and shuddered at the very thought.
I have learned to give a cheery "hi", to a child whose physical tics seem to be controlling him.  Did you know that also encourages the mom, who realizes, of course, that everyone is staring at her child?
Oh, I know there are kids out there who are just rebellious and/or disobedient. It doesn't hurt for me to pray for those struggling families, too.  Besides, I don't know when I see them if their struggles are in child training or if their struggles are with a child with a diagnosed medical condition.  You can't tell by looking.  Only God can see into the heart.
Please don't read this post and think it's a whining sob story.  It's not.  While I do appreciate your prayers, always, this is also not a prayer request.  If you are led to pray, pray for all the parents of children with all sorts of special needs, whether their needs are physical, mental, or a mixture of both.  Pray for your attitude the next time you encounter a child whose behavior is not quite up to snuff.  Give thanks to God for your normal child.
The Lord has not only blessed me with a special son, but he has also blessed me, through Corin, with a special three year old grandson. These two boys can make me smile, can warm my heart, and can bring tears of joy to me quicker than anything I've ever experienced before.  My heart is so full of love for them!
With God's help, as I yield my pride at being an "experienced mom", and humble myself before Him, I will discover ways to help my son.  Nutritionally.
Educationally.  Medically, perhaps.  Only time will tell how reaching maturity will affect my son's Tourette's Syndrome, OCD, ADHD and other traits.  The symptoms may be lessened in adolescence, or they may become much worse.  They could go away in puberty, only to recur in adulthood.  Or God could relieve him of these things entirely.  Only God knows.  I trust Him with my whole heart in this, and know that He has given me this boy knowing how I would work to find the best ways to raise Him up in the nurture and admonition of the Lord.
God bless you as you look well to the ways of your households today.
Proverbs 31:27
Oh, and kiss your kids, too!