I generally don't give my poor washing machine a second thought.  I thoughtlessly turn it on to begin filling, throw in some laundry detergent and other chemicals cleaning agents and then fill it with our dirty clothes.  I expect to come back, less than an hour later, and find our stinky socks transformed into gleaming white, sweet-smelling foot wear.  I'm never disappointed.  It's a faithful servant that doesn't demand much in the way of care.  I'm planning on changing that! Track with me a minute….
If you've been with me for very long, you know that we've been dealing with a malfunctioning dryer for what seems like forever.  Yes, it's still broken.  The new motor has been delivered to the repairman, though, and he will be here Friday afternoon.
I went to the laundry room this morning and began thinking about the dryer guy's upcoming visit.  I'll want to be sure that the twelve year old reaches back in behind the dryer and retrieves all the wayward socks first.  I'll give him the vacuum hose and a wand extension while he's at it so that he can suck up all the dust bunnies while he's back there.  I began giving the washer, dryer and countertop a good spray with my Red Juice and a thorough wiping down.
Why?  Is it vanity that motivated me?  Hmmmm……maybe in part, if I'm really being honest.  However, several years ago I had a light bulb moment with Proverbs 31:11-12.  It wasn't pretty.  It is the last time, I believe, that I've ever left my home with beds unmade and dishes in the sink and things in disarray.  It ended in great embarrassment for me, and, I'm sure for Copper as well.  Maybe I'll tell you about it sometime. Maybe.
Let's look at those verses:
"The heart of her husband trusts in her, and he will have no lack of gain. She does him good and not harm, all the days of her life."
When the dryer guy comes on Friday, the only knowledge he will have of my husband is what he sees (and hears) while he is in our home.  I could damage my husband's reputation, thereby doing him great harm, if my home or I appear unkempt, or if my children are unruly (My kids? Nah!).  It's important that I honor my husband's reputation by being sure that our home  is neat and clean.  I should take care to be sure that my appearance is what my husband would want it to be when I greet a stranger in his home.  I should be sure that my children are also honoring of their father by being well behaved, productively employed or at play, and well-mannered to our guest.  By honoring my husband this way I do him no harm.  It is my fervent desire that Copper be able to trust in me in this regard.
Should you think that the dryer guy won't notice, let me assure you that experience has taught me that he will.  Over the years I've had a lot of positive comments from repairmen and service providers.  Here are just a couple that I can remember right off hand.
Said one dryer repair guy recently, stopping suddenly in his tracks while passing through my kitchen, "What nice music you have playing."
A few years ago, two other service providers, after spending a day on an installation in our home and having observed my two older daughters and my oldest son working, homeschooling and playing throughout the day, both mentioned how industrious my children were, and then proceeded to tell me what "most kids" are like that they see in their business.
A contractor we had build a room addition onto our home was so taken with what he saw in my children as a result of homeschooling, that he and his wife began homeschooling their youngest son who had been having some real struggles in the public school.
My point is, they notice!
Oh, yeah.  And I try to remember to offer a bottle of cold water to all these guys, too. Just in case
(Hebrews 13:2)
So, back to my humble washer.  After giving the outside of the laundry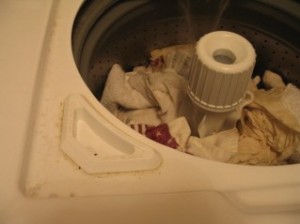 machines a wipe down, I opened up the washer lid.  Pretty sad sight.  In fact, it was gross.  Honestly?  I'd had to ask Copper earlier in the morning to help me take apart the fabric softener dispenser.  It had become so gummed up that it no longer dispensed.  My faithful washer was in sore need of some attention!
So, with new resolve I am determined to give my humble washer a bit of TLC.  It already gets a weekly outside cleaning by the seven year old.  But he is, well, seven; and it should get a more thorough outside cleaning by me once in awhile.  We need to remember that our children are still in training, and that their standards are still being refined.
From now on, on the days that I wash all my cleaning cloths, this will be my new routine:
While the machine is filling with hot soapy water, I will use a white cleaning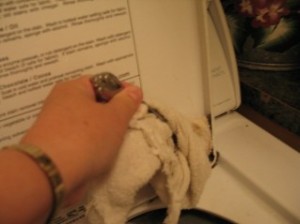 towel to clean all around the top ridges of the washer, and into all the nooks and crevices of the lid.  You can see from these pictures that I had to use a butter knife, covered with a cloth so I didn't scratch the paint, to chisel out some of the caked on detergent and to reach into the corners around the hinges.  If I'm diligent to wipe these areas down every time I wash cleaning towels (at least once a week), I should never again have such a big mess to do deal with.
Since the washer is filling with hot soapy water, and since the contents of the washer are dirty cleaning towels and cloths, I can easily dip the cloth I am using into the water for a quick rinse, squeeze it out and continue cleaning.
This is also a good time to take the fabric softener dispenser apart and rinse it out well, removing any pieces of lint and/or hair that might clog it.
I also had to work a bit on the rubber gasket that surrounds the tub.  I certainly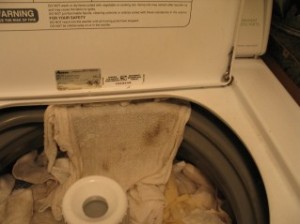 didn't want to use even a covered butter knife on this!  Instead, I dipped my towel into the hot soapy water and draped it over the dirty areas to soak for a moment.   The dried on detergent came right off!  Again, I'll be diligent to keep this clean at least once a week.
I'll finish up by spraying the outside of the machine with Red Juice and giving it a good wipe down all over, including around the dials. I'll give the dryer a once over as well.
After I finished doing all of that this morning, I then did the same to my counter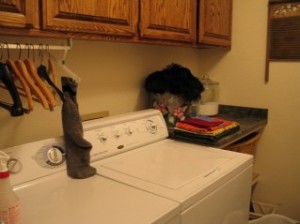 and the outsides of the Biscotti jars that hold my laundry powders.  (The painted mop bucket is where I put the orphaned socks until the mate shows up, and those are our ostritch feather dusters arranged as a bouquet at the top!)  Again, the seven year old takes care of this for me weekly, but once in awhile I think Mom needs to come through as well.  The only things "out" in my laundry room at that point, were the wool boot socks that were hanging to dry, and my new fabrics waiting for a turn in the washer to be prewashed.
My last task was to sit down at my laptop, and enter the new washer cleaning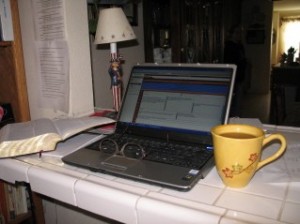 chores to my planner.  I simply jotted it onto the end of the entry for washing the cleaning cloths.
I think I'm all set for the dryer guy.  I know I'm more than ready for my dryer to be in good working order again!  I may even leave the lid of the washer open!
Here are a couple of links for more laundry related thoughts:
Kelli and her family engaged in a Little House on the Prairie weekend where 
they washed on a washboard in the backyard! I love the thoughts she shared about some things she wants to change in her homeschool and children's chore routines because of the experience. Be sure to read both part one and part two of her report.
Mrs. Wilt has recently redecorated her laundry room and shared some laundry room organization tips here.
God bless you as you look well to the ways of your households!
Prov.31:27
Remember to pray for Karen.
She and Dave have an important appointment today.
The link to her site is under her lovely picture in my side bar.