Signs of the season.  Laying up hay for the coming winter months.  Here's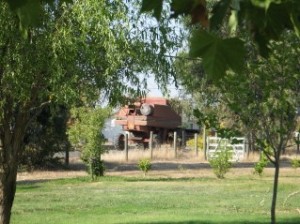 Copper headed out to cut the fall hay.
LOL!!! 
Don't we wish!!!  Nah, just so happened that that piece of harvesting equipment was rolling down the road just as I was out snapping pictures of our "real" haying.  We are not able to grow our own hay on our little 5.5 acres.  We buy from a large, local hay broker, who is also quite a character.  The boys love going along with their dad to get the hay.
When we buy hay, we need to move the hay from our driveway to our small hay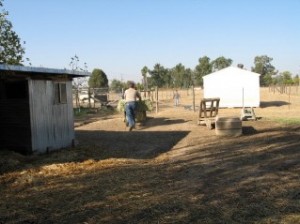 barn.  This involves moving it through our goat pen, and across a small part of our small barnyard.  This is all just dirt, and our dirt is clay.  That means that once the rains come, all we have is ooey-gooey, sticky muck that we cannot possibly move hay through.  Rain is forecast for several days later this week (Yippeee!!).  That's why it was so important to get the hay in this week.
Here's a picture of all that was left in the hay barn from buying hay early this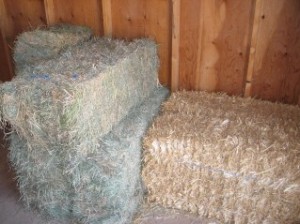 summer.
Copper and the boys went to the hay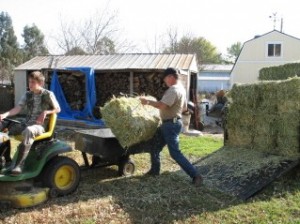 broker's yesterday and brought home two big trailer loads of good grass hay.  After untying the load, Copper loaded the hay into our little trailer and the thirteen year old drove the John Deere with his Dad following behind to balance the load.  Hey!!!  I know it's just a little J.D., but it's still a John Deere.  (Homemakerang's husband has the real deal!!)  (*Note to Lisa K. – Yes, the thirteen year old IS wearing his cammies.  The deal is, if they're clean, he's wearin' 'em!
)
The seven year old's job was to keep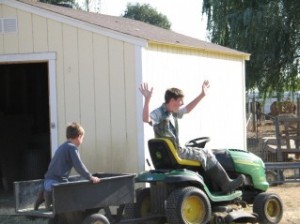 the trailer weighted down for the return trip to the driveway. 
The thirteen year old thought his job was to terrify his younger brother by driving with no hands!
The hay was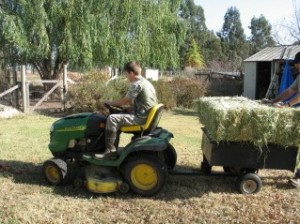 transported, three bales at a time, until all 31 bales were moved  and stored away for the coming months.
Our sweet Nubian goats, Daisy,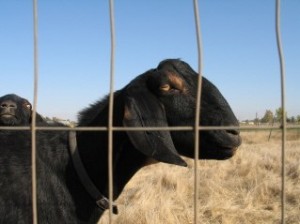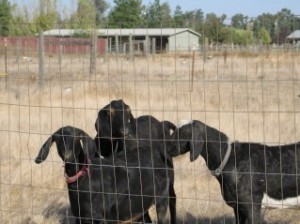 Gigi  and Harley watched curiously.  I absolutely LOVE these animals!  Ol' Harley almost had his mouth watering!
Our small flock of Barbados Black Belly Sheep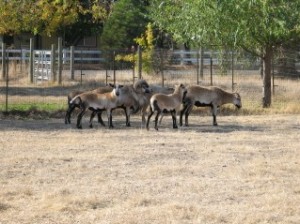 watched from a safe distance.  We're very excited as we think all three of our ewes are expecting!  They're in the shadows, but check out the horns on our ram!  He's the most beautiful ram we've ever owned!
Here's our little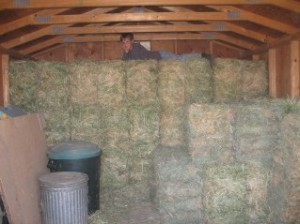 hay barn now, with, Lord willing, enough hay to get the animals through until the spring.

"He who gathers in summer is a prudent son, but he who sleeps in harvest is a son who brings shame."  Proverbs 10:5
"Go to the ant, O sluggard; consider her ways and be wise.  Without having chief, officer, or ruler, she prepares her bread in summer and gathers her food in harvest."  Proverbs 6:6-8
God bless you as you look well to the ways of your households!
Proverbs 31:27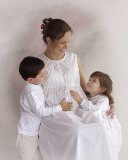 Remember to pray for Karen!