You will always find encouragement here for keeping a tidy home.  I will always be first in line to tell you the importance of having a household cleaning/maintenance schedule and sticking to that schedule.
However, I am a fallible woman.  I am not perfect, and neither is my home.  Oh, my intentions are good.  They're great, in fact!!  I love the days that I can look back over my day's schedule and see that every single thing has been done.  Ditto the days that I've not only done the day's jobs, but have made a dent in the weekly and monthly "to do" lists.  But those days don't always happen.  In fact, at the end of every month, I can see that several of those scheduled jobs have fallen through the cracks.  Again.  It could become discouraging, I suppose.  But we are not to be discouraged.
"And let us not grow weary of doing good, for in due season we will reap, if we do not give up." Galatians 6:9
So here it is, October 31, the end of another month; and I've some areas that need some attention.  Some are, in fact, pretty scary!!  Here are some of the "scary" places in my home right now.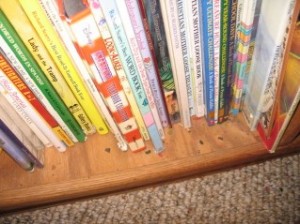 Spilled fish food on the book case in the school room under the aquarium.  Not to worry, the dog will come along and lick it up later. Yuck!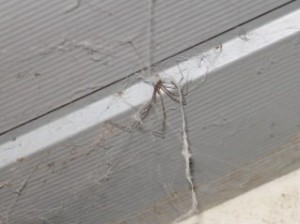 A very happy spider, living in his very dusty web in the shop.  Definitely scary!!
Weeds in the front flower bed.  Hmmm….it looks like more weeds than plants!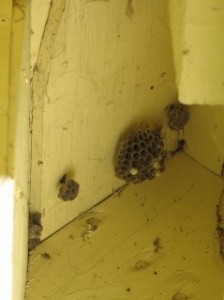 Nasty paper wasp nests under the eaves of my home.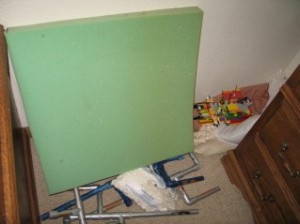 Copper's marshmallow gun arsenal, along with a bag of "ammo", along with some pieces of an as yet incomplete reupholstery job on a rocking chair AND what looks like some Legos.  And where might this frightening display be?  In a corner of our master bedroom!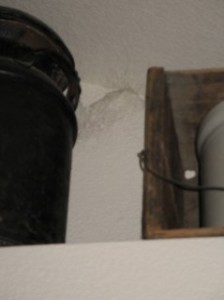 A very scary spider web on the high display shelf in the living room.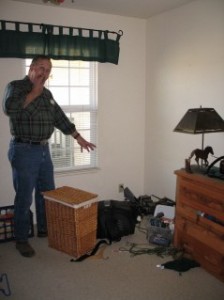 Copper being frightened by a very scary corner in the boys' room (previously hidden by the wicker hamper!).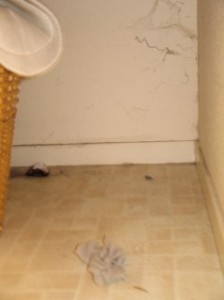 When you pull out the lovely wicker baskets from under my laundry room counter, this is what you will find.  Eeeeeek!!!!
I've shared these "scary" places in my home with you in fun.  But the fact remains that we, as Christian wives, are to be looking well to the ways of our households.  In fact, I close every post with my prayer for God's blessings over you as you do just that.
Our work, as Christian women, is outlined clearly for us in Scripture.  We are to love our husbands and children, to be self-controlled, pure, workers at home, kind, and submissive to our own husbands, that the word of God may not be reviled. (Titus 2:4-5).  Our husbands desire (and NEED) our love.  Our children do not care for and train themselves.  Neither do our homes clean and tidy themselves.  It is work, and it is our work.  We need to be careful to order our days in such a way that we are keeping ourselves busy with this work as laid before us in Scripture.
"For we hear that some among you walk in idleness, not busy at work, but busybodies.  Now such persons we commend and encourage in the Lord Jesus Christ to do their work quietly and to earn their own living." 2 Thessalonians 3:11-13

I've not arrived.  I'm not there yet.  Far from it!!  But God has called me to this  life, and He has outlined for me in his precious Word what it is I am to do.  So I keep on keeping on.  Why?  Because this is the life God has called me to, and I love it!
"Not that I have already obtained this or am already perfect, but I press on to make it my own, because Christ Jesus has made me his own." Philippians 3:12
God bless you as you look well to the ways of your households!
Proverbs 31:27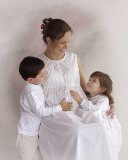 Remember to pray for Karen!