One of my all-time favorite decorating/homemaking books is Terry Willits'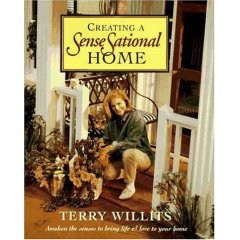 Creating a SenseSational Home. This is a book that I've read almost every year since purchasing it.  Sadly, it's out of print, but used copies are still available beginning around $5.00 here.
This book inspires me to look at my home in a different manner.  We are all familiar with decorating magazines and books and all of their pretty pictures.  A room that looks beautiful is, of course, appealing.  But God created us with five different senses – sight, hearing, taste, touch and smell.  If we decorate our homes with only a thought to the visual, we are missing out on appealing to and pleasing our four other senses.  Let's think for a bit about decorating for the fall season with those other four senses in mind.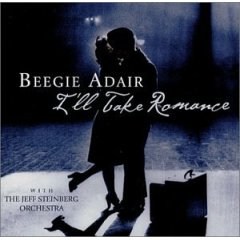 Hearing – Now that the weather is changing, what do the insides of our  homes  sound like?  We  play music in our home almost all day every day.  In fact, we sometimes forget to turn the CD player off when we go to bed!  However, now that it's fall, I'm finding that the sounds I want to hear, musically, are different. I'm playing more of Copper's favorite Celtic Cd's, and putting on some lovely piano music by Beegie Adair, for example.
Even though the weather is growing cooler, we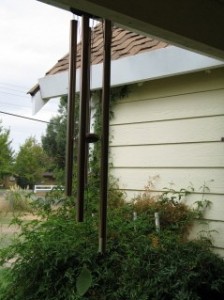 are still opening up our windows and doors for the fresh air most afternoons. With every breeze that blows, we hear the lovely sounds of the wind chimes on our front porch.  I do love the sound of wind chimes!  Wanna know a secret?  Copper and I have a large set of chimes, made and given to us by the son of some dear friends, hung outside of our bedroom windows so that we can hear them on breezy nights.
Taste – Does your menu change for fall?  I'm sure most of you would say, "yes".  Having those cold weather foods is important, I think, to the overall feeling of your home.  Pot roasts, soups, crockpot meals, all these say "fall" to me.  We also eat more popcorn during the cold weather months. (Popcorn popping is also a great fall scent!).  Sugar cookies and plain cakes make way for ginger snaps, oatmeal cookies and spice cakes.  If you're interested in the BEST chocolate chip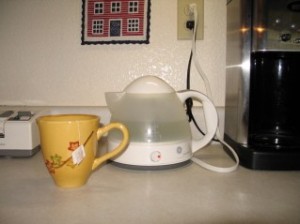 monster cookies ever, Dani is working up to posting her tips here.  I think she may keep you in suspense, though.
I've also made the switch from drinking iced tea all day, to drinking cup after cup (aftercupaftercupaftercup) of hot tea.  The peach teas and Lady Greys of summer are not the ones being brewed.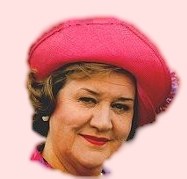 Instead, I'm brewing Orange Spice, Chai Spice, Double Bergamot Earl Grey and Chocolate Hazelnut.  My little electric tea kettle works hard in the fall and winter.  (For some reason, I always feel like Hyacinth Bucket when I plug this in!).
Touch – I have to admit, I sometimes don't think I quite do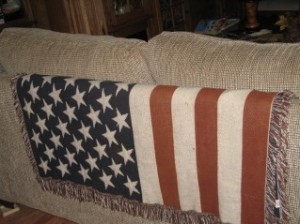 enough in this regard in my home.  However, my family tends to "get" the touch thing, even if I don't.  For example, these throws that spend all summer neatly folded on the backs of my couches and chairs, are found quite frequently draped across a reading boy, or napping husband once the weather gets cool.  They are also just as frequently found left in a heap on the couches after said boys have moved on.  Copper pretty faithfully puts his back.
Other things related to touch, in my opinion, are things like the warmth that can only be found coming from a wood burning stove, or the feel of wool yarn as I'm knitting rather than cotton yarn.
Smell – This is an important one, for me, in the fall and winter.  In the spring and summer, I rely on the fresh breezes coming in through my open windows and doors to keep my home fresh smelling.  In the cooler months, though, I need to be more vigilant in keeping my home smelling nice.  I used to burn scented candles a lot.  I will tell you, quite honestly, that I love nothing more than burning scented candles throughout my home.  However, when repainting my living room last year, I was pretty discouraged at the amount of smoke that had accumulated at the ceiling.  After the ceilings were painted, it was pretty obvious that the smoke stains began on the walls leading up to the ceiling.  I'm glad the walls were being repainted at the same time!  So, though I do love burning candles, I'm much more careful about the amount of time they burn, and I'm much more vigilant in keeping wicks trimmed, etc.
However, I am able to achieve the same results in a couple of different ways. Yankee Candle makes a plug in House Warmer fragrance dispenser.  I can still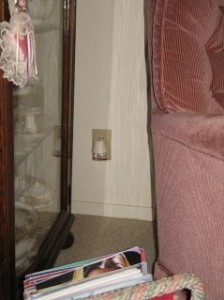 have all of my favorite Yankee Candle scents throughout my home, without having smoke damage and without needing to worry about a live flame in my home.  The little bottles of scent last about six weeks, and refills are available.  I keep my favorite scent, Home Sweet Home, plugged into my living room and school room.  The master bedroom and parlor are graced with the scent of Fresh Cut Roses.  My laundry is scented with Country Linen.  The boys' room is freshened with Citrus and Sage.  Dani has her own plug in fragrancer, but it's a Bath and Body Works Wallflower plug in.  We love her Sweet Pea scent, but have been a bit discouraged at how fast the B&BW fragrance bottles get used up.  I think Dani might need to change to a Yankee Candle product instead.
Before I was able to afford the Yankee Candle plug ins, we loved having these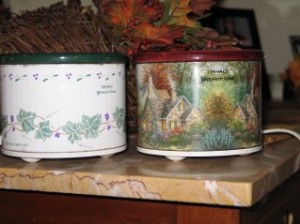 little mini crockpot potpourri burners about.  I bought these at Wal Mart, and they were only about $6.  I haven't priced them this year, but I'd imagine they are still very reasonable.  Surprisingly, you'll find them in the crafts section of the store, and not with the candles and such.  If you use these, be sure to unplug them when you leave your home and before you go to bed.  Also, check the water level in them a couple of times during the day.  (They smell awful if they burn dry.  Don't ask me how I know.) You can purchase the liquid potpourri at Wal Mart or the grocery store, but we rarely did.   Instead, try one of these:
Apple Pie Potpourri – Place three or four slices from a green baking apple in the potpourri burner.  Sprinkle a heaping teaspoon of cinnamon over the top (or some good cinnamon sticks), along with a sprinkling of nutmeg.  Fill with hot water and plug in.  Your home will smell like apple pie all day!  We found we could just refresh this with a bit more cinnamon and nutmeg for an additional day or two before having to dump it all and replace the ingredients.  This is also a good way to use a bruised apple!
Orange Spice Potpourri – Place three or four slices from an orange, including the peel, into the potpourri burner.  Add some whole cloves.  Sprinkle with cinnamon (or add cinnamon sticks).  Fill with hot water and plug in.  We got a lot of compliments on this scent in our home.  Again, you can refresh for a day or two with just a sprinkling of cinnamon each morning. (the clove scent seems to be longer lasting).  The Orange Spice scent seems to be particularly appealing to men.
Enjoy your home this autumn season.  Do enjoy all of your garlands and festive fall and Thanksgiving decorations.  Just remember to keep all five of your senses in mind and see what you might be able to do to "decorate" toward all of them!
God bless you as you look well to the ways of your households!
Proverbs 31:27
---
Remember to pray for Karen.
The link to her site is under her lovely picture in my side bar.