First of all, I do want to thank all of you who entered my Fall Give Away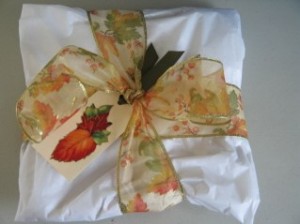 drawing.  It was wonderful hearing from some of you who normally  just "lurk".  Your comments are valuable to me, and they are a great way for me to get to know you better.
Mrs.KBrook – Copper took your package to the post office Tuesday afternoon,  and it is on its way to you.  He's such a sweetie, he even sent it Priority Mail!  Let me know when it arrives.
Copper also helped me finish up the front porch this afternoon.  Everything we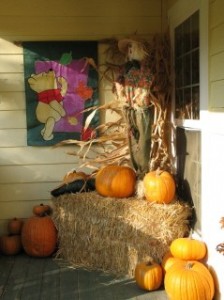 used this year is old or grown in our garden.  The carved pumpkins and corn stalks came from our garden, and the bale of straw from our feed barn.  All of the other decorations, including the wreath made from real fall leaves, I've had for years.
I've not forgotten about compiling all of the wonderful apple recipes submitted for the contest.  I will try to work on that in the next day or two so that I can post those for you.
The only other thing is that we're still just jumping for joy and praising and thanking God for the blessing of a new grandbaby due next summer.  God is so faithful and I'm so thankful for a daughter and son-in-love who are open to all of the blessings the Lord might send  their way.  Love you guys!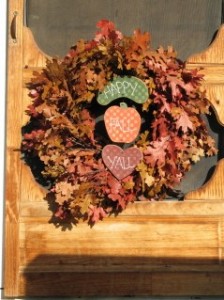 And we're expecting rain today!!!
Happy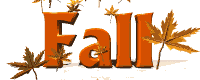 Y'All!