My Friday Favorite to share with you this week is what we call our Grandma Bettie Wall of Fame.  But you know me, there's always a story.
If it's true that you can really know the character of a person by the company they keep, then I know, beyond a shadow of a doubt, that my late mother-in-love was a lovely woman, through and through.  If you've visited me here much, then you know how much I loved Copper's mom. What you don't know, though, is that I also loved her friends!  Today I want to tell you about one friend in particular.  My kids all call her Grandma Bettie.
Bettie and Lola were great friends.  Together they, almost single-handedly, ran their church's nursery.  Many a mom and dad were comforted by the fact that their babies were not only in capable hands during church service, but were also well and truly loved by these women.  Bettie and Lola were travelling companions for years.  Lola would travel with Bettie to another state to visit Bettie's son and his family.  They would plan long trips and then would come home with scads of wonderful pictures to share.  There were cruises.  Oh, the places they saw!  There were lunches out with shared friends.  There were hours spent working puzzles together.  I know because my family has benefitted greatly by being given boxes and boxes of puzzles that they put together and then disassembled to pass along.
My daughters can tell you of the wonderful days they spent with their Memom (Lola) and Grandma Bettie.  Shopping trips.  Sight-seeing trips.  Special lunches.  In fact, Grandma Bettie was there the day Corin told her Memom that she was expecting her first child.  Lola and Bettie were, in fact, bosom buddies.  Lucy Maud Montgomery would have called them "kindred spirits".
When my now thirteen year old was hospitalized for almost two weeks, when he was just three weeks old, Bettie helped Copper and I work out a plan for me to surprise Lola by sneaking out of the hospital long enough to attend the family baby shower that Lola's sister had planned for me.  You see, Bettie was the ONLY person I would trust, even for just a couple of hours, to come and tend my very sick baby in my absence.  I knew I could trust her.  (As it turned out, a wonderful doctor released our baby for a few hours so we could go together.)  I'll never forget her willingness to do this for me.  In fact, of all the people that called and visited while my son was so sick, Bettie was the one whose words were always comforting.
When Lola was battling cancer and living with us, Bettie and her sister, Joyce, came to see Lola often, even talking her into going out for lunch once in awhile.  One time they even convinced her to take a day trip with them to a local Indian Casino!   As other friends' visits became more scarce, and while others even stopped calling, Bettie, and Joyce, were faithful friends to the very end.  Good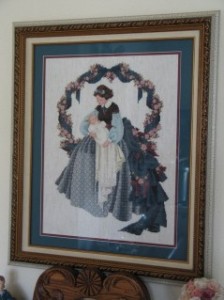 friends.  True friends.
When I was expecting my now seven year old, Lola and Bettie got together and  planned this beautiful counted cross stitch for me and had it framed.  Bettie did all of the stitching.  Bettie is KNOWN for her beautiful counted cross stitch work.  As much as I enjoy working a counted cross stitch design, I will never come close to the skill Bettie has in her work.  I just love this piece, and it has hung in my parlor now for seven years!
Many years ago, Bettie did these beautiful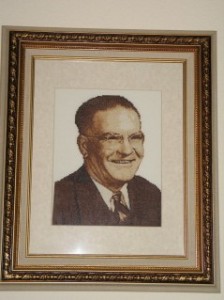 counted cross stitch pieces from photographs of Lola's parents.  She sent away for the patterns to be made and she worked them in all sepia tones.  I believe she did them as a gift for Lola's mother, Nora, who is now 103!   I have always admired them.  I never had the opportunity to meet Lola's father, Copper's Grandfather, but I always loved this photo of him.  Doesn't he look jolly?  These counted cross stitch  pieces are amazing to look at!
When Lola passed away in 2005, these lovely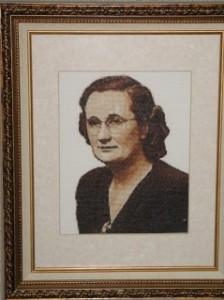 counted cross stitch pieces of her parents came to my home.  I knew at once that I wanted them hung in my parlor next to the cross stitch Bettie did for me a few years earlier.  The frames even match!!  I love to stand back and admire them – seeing the subtle shading and highlighting.  I love to look at them up  close, as well, and appreciate all of the thousands and thousands of teeny, tiny stitches involved in each of these pieces.  They are truly works of art!
Thus, my Grandma Bettie Wall of Fame was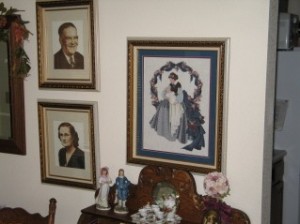 born.  I love these three pieces hanging in my parlor.  They mean the world to me.   My Grandma Bettie Wall of Fame is definitely one of my favorite things!
God bless you as you look well to the ways of your households!
Proverbs 31:27
Remember to pray for Karen!