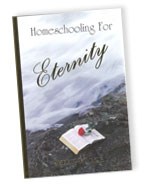 Last summer I read Skeet Savage's Homeschooling for Eternity.  I have to tell you that while I really enjoyed this book, it was not the sort of "homeschool" book that normally appeals to me.  On the other hand, there have not been many books that have had me shaking my head in agreement and saying, right out loud at times, "Yes!, That's right!" they way this one did.
I had the privilege of meeting Skeet a couple of years ago.  She and her son, Israel Wayne, were the keynote speakers at our local homeschool conference.  One of her daughters, Mercy Hope, was along to help with their booth.  Skeet's children are all grown now, and the fruit of her labors is evident in the two grown children I met.  Israel and Mercy are intelligent, out going, energetic young adults. Both have a terrific sense of humor.  Most important, though, are their faith and dedication to service for the Lord.
Since Copper and I were in charge of the exhibit hall, I did not have the chance to hear Skeet speak in any of her sessions.  I did, however, have the grand opportunity of pulling up a chair next to her in the exhibit hall for a brief, informal chat.  Her down-to-earth, common sense ways, combined with her love for Jesus, made me wish our conversation could have lasted for hours.
Homeschooling for Eternity would be an encouraging read for all homeschooling families.  I would especially recommend it to those who are struggling and think that the difficulties of their lives make homeschooling impossible.  Skeet will tell you otherwise!  This book would be especially helpful to the single homeschooling parent.  Skeet's faith and convictions are strong, yet encouraging.  Her writing style, as her speaking style, is down-to-earth and charming.
There are thirty-one short chapters in the book, with lots of Scriptural texts included to support her points.  A small sample of the chapter titles include: Education that Produces Godly Character, Homeschooling Against All Odds, Homeschooling Amidst Opposition, Establishing God's Order For Your Homeschool, Knowing Your Child by Heart, Maximizing Your Efficiency, Preparing Children to Serve as Unto the Lord, and Homeschooling: How You Can and Why You Must.
I read this book at the rate of about a chapter a day, which gave me time to digest each chapter's content before moving forward.  This is a book that I know I will want to read again.  It's also a title I will want to offer to folks who are struggling with the how-can-I's of homeschooling.
Homeschooling for Eternity is available through Wisdom's Gate, P.O. Box 374, Covert, MI 49043, (800) 343-1943, or on line at the Wisdom's Gate web site.
God bless you as you look well to the ways of your households!
Proverbs 31:27
Remember to pray for Karen!