You know, I don't do a lot of thrift store shopping.  I don't do much for two very good reasons.  First, there is only one thrift store in the closest small city to me, and it's just too far to go to "the big city" to go thrifting.  Second, if I go in, I almost always buy something.  It might be a useful item, but it's usually never needful.  So, I don't make it a habit of going thrift store shopping.  However, there is that one little thrift store in town, run by the Cancer Society.  Some days, like today, it calls to me as I'm driving past  "Copper's Wife….Oh, Copper's Wife…..come in, come in, we have something special just for you!".
Today that sweet siren song worked on me and I turned into the parking lot.  This store has themed events every few weeks or so.  Today and tomorrow their theme is "Table Top".  The store was uncharacteristically busy.  It's a very small shop, and a normal day would see 2 or 3 other shoppers inside.  Today, there had to have been 30 folks in there!!
There were dishes, and serving pieces, and stemware covering every surface.  There were racks laden with tablecloths, napkins and table runners.  They had even found a way to bring three dining room suites into the store for sale!  I almost turned around and walked back out.  But I stayed.  Afterall, I'd pulled in and parked and everything…..
Christmas dinner at my house is a family affair.  There are the five of us, Corin's family of five (six next year!), Corin's in-loves (father, mother & brother), and quite often Copper's brother and his family of four.  From time to time, someone else is included as well.   The head count varies from about 13 to upwards of 20.  I always serve Christmas dinner using the Old Country Roses china I inherited from my mom.   I have place settings for 13, but that's not enough for Christmas dinner.  Last year the grands and my youngest son used salad plates for their Christmas dinner.  Not this year!
As I walked into the thrift store this morning, I started back toward my favorite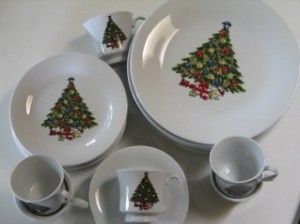 corner, the area where they keep the books.  However, on a table in front of the book cases, there was a complete service for six of Christmas Tree dishes!!  I walked straight to them, saw the price and knew they were coming home with me!!
Service for six – Six dinner plates, six salad plates, six saucers and six cups – all for just $12!!!  I picked up the little price sign from the display, took it to the register and said, "I want those Christmas Tree dishes!".  I brought them all over to the counter to be wrapped, while I continued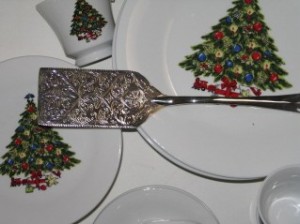 to browse.  There were lots of lovely things, but the only other thing I bought was an International Silver Company server.  We are always short of "dessert" servers around the holidays, so at $3.00, this new in the box piece was a must have.
I am so excited about my Christmas Tree dishes.  No salad plates for the little ones this year.  Nosirreebob!  They'll have their very own dinner plates AND matching cups with saucers for their milk, as well.  I think they'll be pleased.
Okay, I'm off to paint my kitchen wall.  More on that next week!
God bless you as you look well to the ways of your household!
Proverbs 31:27
Remember to pray for Karen!