Every job, to be well done, requires the proper use of the proper tools.  Reading is no exception to this rule.  Besides being sure that I have the proper lighting,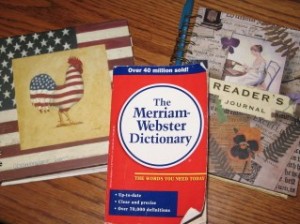 there are three tools that are always close at hand when I sit down to read – a small sized dictionary, my Reader's Journal, and my Commonplace Book.
I keep a small size Merriam-Webster Dictionary with my reading materials.  My favorite dictionary is our big Webster's 1828.  However, it is really too big and cumbersome to keep chair side when I am reading.  It is much more convenient for me to have a small sized dictionary by my side.  Some books, of course, rarely require my use of a dictionary.  Other books, however, require such frequent referral to a dictionary that I actually keep the dictionary in my lap!  I like stretching  myself with a book with a challenging (for me) vocabulary.
The Reader's Journal I use was a gift a few years ago from a dear friend and
fellow book lover.  It was set up originally with four divisions – Books Read, Books Recommended, Books Lent/Borrowed, and Book Notes.  I have renamed the last two divisions  as "Categorized List of What I Want to Read Next" and "Book Lists by Category".  If you check my reading basket list in the side bar, you will notice that I like to read more than one book at a time.  I have one book I am currently reading in each of several different categories.  This little journal has helped me to keep track of books others have recommended to me, or books that have been referenced in something I've read.  I can then check them out further to decide whether or not I think it's really worth reading, and whether or not it's a book I want to own, and then list it under the proper category for my book basket.
The heart of the Reader's Journal, though, is the first section – Books Read.  Each page in this section includes the following entries:  Book Title, Author, Publisher and Notes.   I am faithful to record all of this information for the books I read, also including the month and year each book was completed.  If I reread a book, which I frequently do, I note the month and year it was reread next to the original entry, and record any further notes I might have after the second (or third!) reading.    My little journal is delightful because there are lovely, printed book related quotes sprinkled throughout.  Here is just a sampling:
"There is no frigate like a book to take us lands away."
Emily Dickinson
"A book is like a garden carried in the pocket."
Chinese Proverb
"Books are the treasured wealth of the world and the fit inheritance of generations and nations."
Henry David Thoreau
Thumbing back through the pages of my Reader's Journal reminds me of books I've read and what I learned from them.  It's also very helpful in recommending books to others, or in letting them know why I wouldn't recommend a particular book.  I don't need to rely, solely, on my memory.  I can read what my thoughts were when I first finished a particular book.
Last, but my no means least, is my Commonplace Book.  I first read about the notion of keeping a Commonplace Book in Clay & Sally Clarkson's Educating the WholeHearted Child.  From their book,
"Students and adults alike used to keep a "Commonplace Book" with quotes, wisdom and sayings they would read or hear.".
This idea of a Commonplace Book took hold of me immediately.  I always want
to share with others the wonderful quote I've read recently, or share with them something profound I'd recently read in a book.  But my brain!  Oh, my brain would never recall the quotes verbatim, nor could I ever find the desired passage in the book it was from (that is, if I could even remember which book I'd read it in!).  The idea of keeping a Commonplace book took root, and I pulled out a nice journal I'd had on hand and began at once.  The very first entry is the one I just shared about keeping a Commonplace Book.
My Commonplace Book now contains pages and pages of quotes.  Some are very brief, and there are up to four on a page.  Others are quite lengthy.  The longest is three pages from an article on Mother Culture by Karen Andreola.
I have quotes from presidents, including John Adams and Theodore Roosevelt.  I have quotes from well-known Christian authors and heroes of the faith -Oswald Chambers, Corrie ten Boom, Jeremiah Burroughs and C.S. Lewis.  There are quotes from Martin Luther, Saint Patrick, Emilie Barnes, Elizabeth George, Clay and Sally Clarkson, Daniel Defoe, and W. B. Yeats.  I even have a BC cartoon strip from the days immediately following 9-11 glued into my Commonplace Book.  There are dozens of sources so far.
I reread my Commonplace Book often.  I find some of the quotes refreshing.  Some stir up emotions in me afresh with each reading.  Some inspire. Some, like this one, always make me smile:
"Gun control means being able to hit your target.", taken from the web site of Michael Bodnarik, 2004 Libertarian Party Presidential Candidate.
And this one caught my eye again today,
"Opportunity is missed by most people because it is dressed in overalls and looks like work.", Thomas Edison, excerpted from the book Preparing Sons to Provide for a Single-Income Family, by Steven Maxwell
As you know, I had fallen away from my reading habit for a bit; but I am very much enjoying it once again.  I am so happy to be using my reading basket tools again, too!
God bless you as you look well to the ways of your households!
Proverbs 31:27
Remember to pray for Karen !