Today was the day that Copper and I headed to town to do our every-two-week's shopping.  Man, everywhere we went was a zoo!!  We sort of expected it, with Thanksgiving just a few days away, but it was still craziness.  We came home at almost 7:00 p.m., to a lovely supper of piping hot baked potato soup, topped with grated cheese and bacon, and fresh biscuits with honey butter.  Yummm!!  Thanks, Dani, you're the best!
Oh, and the children surprised us!  We always call home a few times while we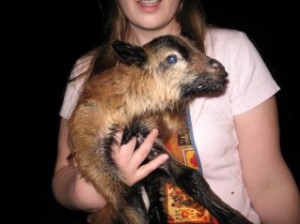 are in town to check in on things, but no one mentioned anything to us out of the ordinary.  They are very good secret keepers.  While we were gone, one of our ewes gave birth to twin lambs!!  One little ewe lamb, and one little ram lamb!  Dani went out with her brothers to catch the little critters so that she could determine their gender.  Notice the apron and the still very wet lamb?  This is why Copper's Wife and her daughter are almost always found in an apron during the day.  You just never know what you might encounter!
Since we're on a "zoo" theme, I thought I'd give you an update on those silly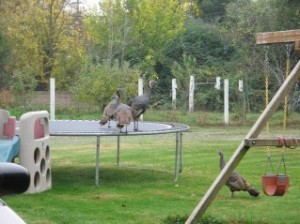 wild turkeys.  Yep, they're still around, and they are getting quite big.  They are doing their part in getting ready for Thanksgiving by exercising their drumsticks on our trampoline!  Goofy birds!
And this just in….literally!  Just as I was finishing this post, the thirteen year old looked into the aquarium and noticed, 1 – 2- 3….make that 4 baby Black Mollies!  Oh, dear…..Welcome to the Zoo!
God bless you as you look well to the ways of your household!
Proverbs 31:27
Remember to pray for Karen!