I don't have a lot of completed projects to show today.  I had a busy week.  I did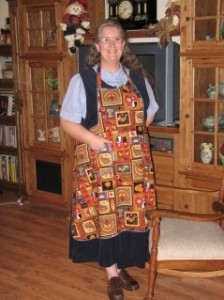 spend some time with knitting and sewing, but I'm trying to read at least three evenings a week now, too.  Balance, balance, balance.  Although I have a LOT of  Christmas projects to work on, I'm still doing a few things, here and there, for my own home, or for pre-Christmas gifting.  I hope to have some of those to show you next week.
I did finish up my Thanksgiving print "Nora" apron.  I love this fabric's rich colors, traditional Thanksgiving motifs and whimsical dancing pilgrims.  I used stone blue bias tape for the trim and really love the contrast it adds.  A closer view of the fabric can be seen here.
I also finished up my knitted monogrammed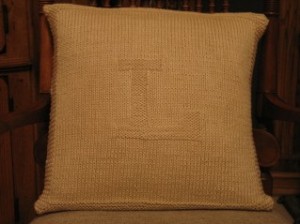 pillow.  I'm disappointed that the picture just does not do the pillow justice.  It makes the initial "L" look a bit skewed, and there is no way that the photograph can capture the hint of a sheen that this yarn has, or the rich texture.  I really love the look of this Knit Picks Shine Worsted yarn.  This 60% pima cotton/40% modal blend is very soft and almost silky to the touch when it is knitted up.  My seven year old loves to hold it and rub his hand over it.  I'm glad it's washable!
Since I can't show you pictures as I finish up things for Christmas gifts, I thought it might be fun to give you a weekly tally of how I'm doing.  Aye yai yai – I think Copper's Wife may end up burning the midnight oil as Christmas approaches!  I've broken down my projects by type and how many of each I'm planning on.  For example, I have 21 garments to sew for gifts.  So far,  I've begun 1 of those projects, and have completed none of them.  Here's my first weekly tally:
Knitted Projects – 18 +
Knitted Projects Begun – 5
Knitted Projects Completed – 0
Sewing (Garments) – 21
Garments Begun – 1
Garments Completed – 0
Sewing (other projects) – 20+
Other Sewing Begun – 0
Other Sewing Completed – 0
Paper craft Projects – 12 (I don't know if this is one large project, or a dozen mini-projects!)
Paper craft Project Begun – 0
Paper craft Projects Completed – 0
Needlework Project – 1
Needlework Project Begun – 0
Needlework Project Completed – 0
God bless you as you look well to the ways of your households.
Proverbs 31:27
Remember to pray for Karen!