Many of you have been sharing pictures of your first snowfalls.  I've read accounts of heavy rains and wind gusts of up to 50 m.p.h.  I know some of you are relying on either your heater or your wood stove 24/7 by now.  I thought it might be fun to share with you what the days before Thanksgiving look like around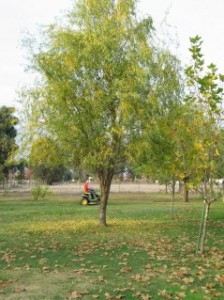 Copper's house.
There are still more leaves on my trees than off of them.  And, as you can see, the  thirteen year old is still needing to mow the grass every week.
I still open my windows and doors in the early afternoon.  We have used the wood stove several mornings and evenings, but the afternoons are still pleasantly warm and near 70.  The wood stove hasn't seen a fire in about 48 hours.
There are honey bees visiting my still-blooming
roses.  (The bee was camera shy and flew away every time I focused in on the roses.)
Some of my trees are still brilliantly green, with no sign of fall color even in mid-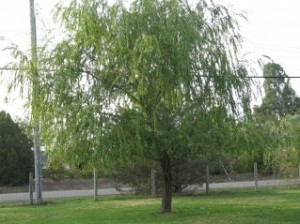 November.  Actually, I absolutely love my weeping willow trees.  They usually have leaves through New Year's Day. I know it's really and truly winter when the weeping willows are bare!  To add icing to the late leaf loss cake, there are almost always leaf buds on my weeping willows by Valentine's Day.
My children are still playing outdoors in their bare feet.
My hay fever flares up when I go outside to cut some flowers for the house.
My blueberries are confused and are blooming a week before Thanksgiving.  I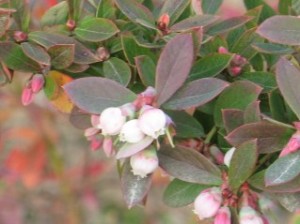 have several blueberry bushes.  Most are in their lovely, red hued fall color, but two of them began to turn red, stopped and are now blooming!  Unbelievable!
In all fairness, most of my orchard trees have either lost their leaves, or are losing them.  The apples and pears are still covered in leaves, but they're beginning to lose their leaves, too.  And one morning, a couple of weeks ago, we did wake up to a light frost.  So, maybe it will yet be cold and fall-like here.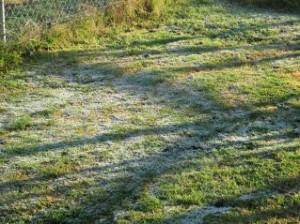 I have no finished project pictures to show you today, either.  I've worked on quite a bit, but nothing is finished
I should have some pictures to show next week, though.  I should have a bit more progress on my tally next week, too.
My Christmas gift making tally looks like this today:
Knitted Projects – 18 +
Knitted Projects Begun – 7
Knitted Projects Completed – 0
Sewing (Garments) – 21
Garments Begun – 1
Garments Completed – 0
Sewing (other projects) – 20+
Other Sewing Begun – 0
Other Sewing Completed – 0
Paper craft Projects – 12 (I don't know if this is one large project, or a dozen mini-projects!)
Paper craft Project Begun – 0
Paper craft Projects Completed – 0
Needlework Project – 1
Needlework Project Begun – 0
Needlework Project Completed – 0
God bless you as you look well to the ways of your household!
Proverbs 31:27
Remember to pray for Karen!