I certainly hope that everyone had an enjoyable Thanksgiving Day.  We certainly did.  Copper and all of the children went to visit Grandma Nora (103), while I stayed home to prepare our portion of the Thanksgiving meal.  Mid-afternoon found us heading to Copper's brother's house and joining about 20 others for a wonderful evening of good food and conversation.  It was great!  There is nothing more lovely than gathering with immediate and extended family, joining hands and hearts, and offering thanksgiving and praise to our Lord.
I'm a bad mom.  I admit it.  And here's proof positive!  Corin's husband was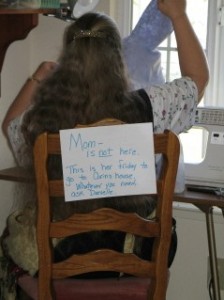 home for a four day weekend, so we canceled my spending Friday afternoon there.  So I hid out in the sewing nook and sewed for the better part of the afternoon.  The boys were so cute.  The thirteen year old asked me what time I was coming home. I told him, "Dinnertime!".  I got quite a bit done, but I'm praying that my sewing machine will hold out through all the sewing still ahead of it.  I'm having some bobbin tension troubles and they are just not resolving, no matter what I try.  sigh.   Not a good time to be taking my machine in for service!
Here's the updated Christmas sewing & crafts tally.  Dani, wisely, advised me to add in my non-gift related sewing, too.  Afterall, she reasoned, it needs to be done, too; and it helps to see that it's getting done!  Not sure if you care, but it's good for my morale!  Still, here' the proof that I need to keep working hard.
Knitted Projects – 18 +
Knitted Projects Begun – 7
Knitted Projects Completed – 3
Gift Sewing (Garments) – 21
Garments Begun – 1
Garments Completed – 1
Non-Gift Sewing (Garments) – 6
Non-gift Garments begun – 2
Non-gift Garments completed – 2

Sewing (other projects) – 20+
Other Sewing Begun – 2
Other Sewing Completed – 2
Non-Gift sewing (other projects) – 14
Non-gift sewing begun – 6
Non-gift sewing completed – 3
Paper craft Projects – 12 (I don't know if this is one large project, or a dozen mini-projects!)
Paper craft Project Begun – 0
Paper craft Projects Completed – 0
Needlework Project – 1
Needlework Project Begun – 0
Needlework Project Completed – 0
Most of the non-gift sewing involves making Christmas aprons and pot holders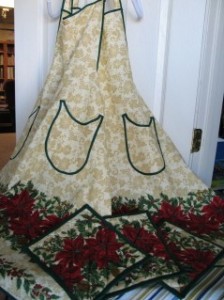 for my own home.  I finished up two of these aprons (in my favorite Nora apron style), and three matching pot holders.  One apron and two of the pot holders were for Corin.  I realized, about two weeks ago, that once we pack away all of our lovely fall aprons next week, we won't have any to wear!  I had this beautiful poinsettia print that I bought at a 50% off sale in August, and I was itching to stitch it up first.
I'll be spending the rest of the day today cutting out fabric and doing some more sewing.  I'll cut fabric until my back hurts (I'd love to have a cutting table at the height that didn't require me to bend and stoop when I cut), and then I'll sew until time to make dinner.  Interspersed all day with doing the laundry, fixing and cooking dishes for our church fellowship meal, etc.  We're on a homeschool vacation until Tuesday.
One last thing – Here's a picture of our five day old lambs with the rest of our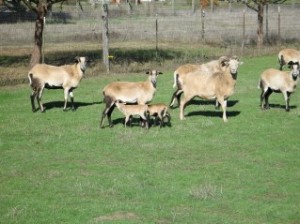 little flock.  Our  herd count is a whopping eight now.  The lambs are growing fast and are so much fun to watch.  They are already doing that silly little side-ways hop that lambs do.  I am especially thankful that they were born while the weather was still mild.  We've had two hard frosts the last couple of nights and they are now old enough to survive that quite handily.  We are hoping that our other two pregnant ewes, who will both be first time mothers, will lamb on fair weather days.  We've not had a tremendous amount of success with winter lambs surviving, so we're praying that all of these will.
God bless you as you look well to the ways of your household!
Proverbs 31:27
Remember to pray for Karen!