I've just a few things to show this week.  The one Christmas project I've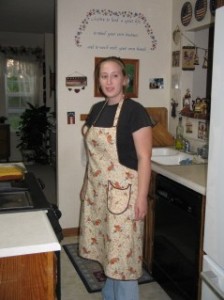 completed turned out great, and I'm hoping the recipient will be pleased as well.  Here are my non-Christmas gift projects from this week.
I finally made my own fall apron!  I made the one for the drawing weeks ago, but mine has been languishing on the shelf.  It was no sooner off the machine than Dani had it on to fix dinner last night!She made a wonderful chili with ground beef and wheat berries, and a whole wheat cornbread sweetened with pure maple syrup.  Yummmmy!
I have a good start on this great Thanksgiving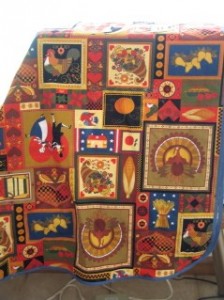 fabric apron, too.  The binding is applied to the apron body and one of the apron ties.  I need to bind the other tie, the neck band and the two pockets and then  put it all together.  I LOVE this fabric!
My knitted monogram pillow is coming right along!  I have just 40 more rows for the other half of the back side, and it will be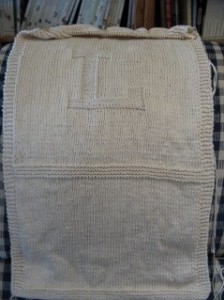 finished.  The "L" is, of course, the front, and the two back pieces fold over to make an envelope for the pillow.  I purchased the pillow form for it at Jo-Ann yesterday.  Get this – one 16″ pillow form was $5.99, or a two pack for $6.99.  Same exact pillow form.  Hmmmm……since I'm planning on making some more knitted pillows, I gladly picked up the two – pack for just a buck more.  Thus continues my serious love-hate relationship with Jo-Ann Super Stores.  In the future, I will be making these pillows on circular needles, though.  Thanks to my friend Kendra for the good advice on that.  This cotton pillow is getting very heavy on the long, straight needles.
It's with a great deal of humility that I show you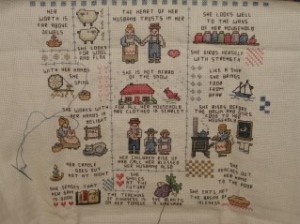 this as a Work In Progress.  This Proverbs 31 counted cross stitch has been a WIP for years.  I can't even remember how many years, it's been so long.  Dani's guessing 14 years, and she may very well be right.  Corin, any idea?  The fact that the printed price on the Leisure Arts pattern is $2.50 is pretty telling, no?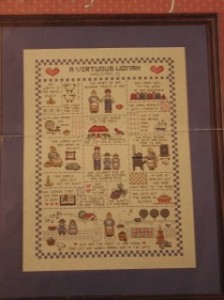 I pull it out from time to time and work on it and then it gets put down and forgotten for a time.  I pulled it out again last night, and now I remember how much I love doing counted cross!  I have all the individual verses worked.  What's left – finishing the outlines between the verses, finishing the double block border all around the design (you can see a single row of this at the very top), stitching the top, title part of the design, and then the large picture that makes up the entire bottom of the work.  I am NOT going to let this get back into the nether reaches again.  I'm keeping this one out and in the works.  It might not get a lot of attention between now and Christmas, but it won't ever be put away.
I did order the patterns for Dani's embroidered dish towels.  She picked out a very whimsical Alice in Wonderland set from Pattern Bee.  She knows that I'm not going to even begin these until after the first of the year, but I ordered the pattern now.  She's still deciding if she wants the entire set done in red work, or if she wants them stitched in full color.  Weigh in on this in the comments section and help her make up her mind!  You need to know that this girl love, love, LOVES red, so it's going to be a hard choice for her.
Another funny family story – Dani pulled out her dishtowels last night to count them.  Corin had eight, if you remember.  Dani was sure that she didn't have that many.  Guess what?  She was right!!  My poor Dad, in dividing up the towels my mom had meant to make up for my girls, somehow miscounted and got 8 towels into Corin's box and only 6 into Danielle's.  Oh, he'd just be mortified.  Truth be told, he was the sort of man, the instant something like this was discovered, that would head immediately out to his truck and drive up to WalMart to buy Dani two more.  I'll be doing just that myself!  Just not today.
God bless you as you look well to the ways of your households.
Proverbs 31:27
Remember to pray for Karen!