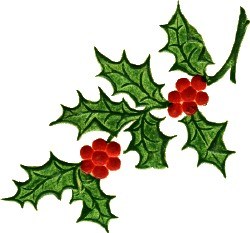 In the last 18 years I've had homeschooling holiday seasons that have run the  gamut from stressed to the max, to laid back fun and joyful.  I found myself, in the wee dark hours of last night (3:15 a.m. PST for anyone who is detail oriented), tossing and turning fitfully over the upcoming holidays and all that I had left to do.  I know, I should have prayed; but truthfully, in those wee hours of the morning, all I could think of was my "to do" list.
And then comes the morning!  It was then that I remembered to look to the Lord for answers.  His yoke is easy, His burden is light; and the frantic outlook I had last night is almost funny to me now.  I still have to face the fact that I have many gifts yet to make for family members AND I still have two young boys to educate.  Yet, I still want this holiday season to be joyful and memorable for my children.  In thinking back over the past and what made the difference between the years that were stressful and those that were joyful, I came up with a few things. Maybe you'll find something here that will be helpful to you.
Is it possible to take an extended homeschool holiday?  There have been years that we planned ahead and took four or five weeks off at Christmas time.  There were other years that we didn't plan ahead, took the time off anyway, and were still able to complete our homeschool goals by the end of the year.  Copper and I choose to homeschool year 'round.  We could take quite a bit of time off from homeschooling this year.  However, my boys, especially my seven year old, do much better when a routine is in place, so we'll be looking at other options this year.
Change your homeschool method for the season.  If you use a textbook approach, or a classical approach, how about trying a fun unit study for the month of December?  There are tons of possibilities – you could use the birth of Christ as a jumping off spot and build a unit study around that.  For example, you could include a brief study of the history of that time period, the geography of the region, astronomy (remember that star?), zoology (the animals in the stable, the camels that the wise men likely used, etc.), and memorize the story of the birth of Jesus from Luke 2.  I'm not an avid unit study user, but I think you get the idea.  If unit studies are your normal homeschooling method, how about trying a Charlotte Mason approach in December?  Most of us could come up with a number of wonderful living books that could be read, and nature studies in the winter time can be a lot of fun; especially if you live in a region with snow!  Or for those in more temperate climates, there may be a lot of birds wintering in the area.  The idea is to just change things up a bit for the season.
Can you take advantage of free holiday happenings in your area?  Are there free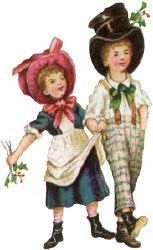 concerts your family might attend during the day?  The nearby city here has a lovely, partially enclosed downtown mall that hosts Christmas concerts daily during the season, free of charge.  One year we even heard a tuba band there. You've never truly experienced Carol of the Bells until you've heard it done exclusively on a dozen tubas!  A neighboring small city has a wonderful open air Dickens market in their old town, with costumed characters and street vendors.   Some communities offer holiday programs during the day geared toward senior citizens, but that are really open to the public. Attending this sort of event with your homeschooled children can be delightful! Check your local newspaper or community events calendar.
Paring back on academics is another choice.  You can cut back by eliminating some of your normal subjects for a few weeks.  Another option is to do part of your normal subject load Monday, Wednesday and Friday, and the rest of it on Tuesdays and Thursdays.  It might even be possible to reduce your school week to four days, or even three, for the season.
Try to introduce some fun arts and crafts activities into your school day.  Hang on!!  Don't get carried away here and turn this into more stress!!!!  Look around your home for what you already have on hand, and plan the craft time into your day wisely.  If you're paring back on your academics for a few weeks (which is probably what we are going to do), there should be plenty of time to plan a craft or two every week.  Check through your holiday books and look for some new ideas that you can do without stress.
Get out of doors!!  I know it's cold, maybe even freezing where you are.  Is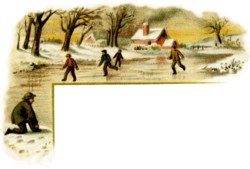 there snow?  Get out there and make some snow angels with the kids!  Frozen lakes or ponds?  How long since you've tied on the skates and taken a turn on the ice with your children?  If you live in a warmer climate, there's really no excuse for not getting outside with your children for some fresh air and exercise!  Exercise is a wonderful, natural stress reliever.  Take a walk.  Go for a bike ride.  Pull the little ones in a wagon.  Have fun!
There will be some years that stress cannot be totally eliminated.  However,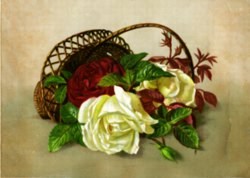 how you deal with that stress can make all the difference in the world.  My eldest child, Corin will tell you that the Christmas she was 12 was memorable. This was the Christmas that I relied on her, daily, to help me tend to all of the needs of my terminally ill mother, as well as to keep my dad healthy and eating right.  It was a stressful Christmas season, but it is one I look back on joyfully.  Did we homeschool those weeks?  Nope.  Did we do a lot of fun arts and crafts?  Nope.  However, just taking care of the needs of our family was joyful (though sad at the same time); and the lessons Corin learned, though difficult, were priceless.
Most importantly, keep your focus. No matter how hectic things get, keep yourself grounded in the Word.  Daily.  Without fail!!  If you're not tending to your heart and your relationship with the Lord, you will lose your firm foundation. Pray without ceasing.  Offer up, moment by moment, not only your cares and concerns, but also thanksgiving for the many, many blessings that come to you every day.
Homeschooling during the holiday season can be stressful, or joyful. The choice, my friends, is yours.
God bless you as you look well to the ways of your household!
Proverbs 31:27
Remember to pray for Karen!