We eat our meals in an area which adjoins our kitchen as well as our living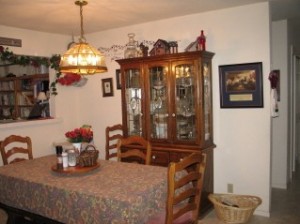 room.  I've wanted to give this area a bit of an update for awhile now.  There's no better way to perk up a room than with some paint!  The budget, however, was not ready to accommodate a room re-do; not even an inexpensive one.  Here's how I was able to pull it off.
I decided that just painting the only full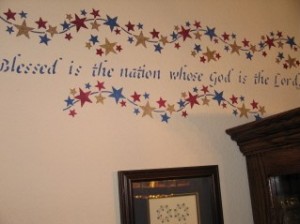 wall in the room a lovely shade of red,  would give me quite a big change in the total look of the room.  I was a bit sad to lose the stencilled Bible verse I'd done on this wall, but I'm hoping to have it redone on the wall over my breakfast bar soon.
I've told you before about the My Points site.  I cashed in most of the points in
my My Points account for a $25 Home Depot gift card.  The card arrived in about a week.  Cool!  One day last week I took a sign down from my kitchen wall so that I could match my paint color to it.  The whole family trooped off to Home Depot.  Copper and the boys went off to look for a new tarp to cover the front of our wood shed, and Dani and I looked at color chips.  The paint color that matched almost exactly is called California Poppy.
We are also, slowly but surely, replacing the baseboard in our home.  The wall I wanted to paint still had the old baseboard on it.  That meant I'd need to have enough money for baseboard material as well.  Sometimes it's hard to find a stopping place when replacing baseboard, but there was a logical stopping place just around the corner from the wall I wanted to paint.  I needed about 14 feet of baseboard. Copper checked, and we had about 10 feet of baseboard on hand. Yippee, I'd only need to buy one piece to complete the job!  Also on hand, paint brushes, rollers and roller covers, paint tray liners, painter's tape and drop cloths..
You know, I'm always amazed at how God is there for us in all the little things in life.  Like paint.  A gallon of paint is normally $24.98, which would mean my gift card would cover the paint, but not the sales tax, let alone any baseboard material.  However, the paint was on sale for $19.98.  After adding the tax to that, I had $3.50 left over!
This past Friday afternoon, I started painting.  Dani helped me by taping off the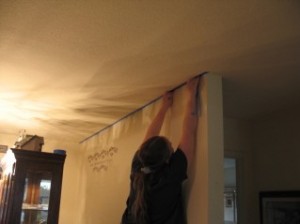 ceiling and corners.  She also emptied out the top of the hutch so that we could move it without breaking anything.  I sent the thirteen year old out to fetch a hammer and crowbar so that I could remove the old baseboards.  He respectfully informed me that what I really wanted was a hammer and a cat's paw.  So be it!
I was afraid that removing the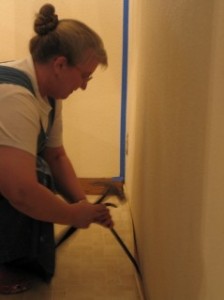 baseboard might be a difficult task, but it wasn't.  In fact, it was fun!!  I think demolition is a great activity.  The pictures were taken down from the wall, the nails were pulled, and the electric outlet plates were removed.  Dani put some spackle into the nail holes while I gathered the painting supplies, and stirred up the can of primer.
The seven year old carefully removed the nails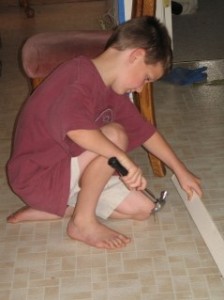 from the old baseboard before we put it into our debris pile outside.  He had been so excited to help, and I was glad that I could find a useful job for him to do.  He did it quickly and neatly and hauled all of the old baseboard out to our debris pile and disposed of the old nails.
I was fortunate in that we still had more than half a gallon of tinted primer left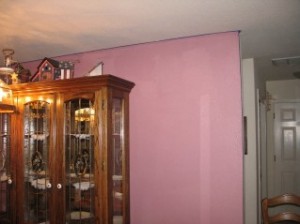 over from painting the red wall in our bedroom last spring.  It was tinted for the darker shade of red I used in my bedroom, but the gal at the paint counter confirmed my thoughts that it would be just fine for this project. You know what?   It's awfully hard to put on that PINK prime coat when what you really want is a red wall!  We learned the hard way, though, when Dani painted her room a year ago, that one coat of tinted primer saves two (or even three) extra coats of paint.  I happily spread that awful pink paint and anxiously waited for it to dry.
After about an hour I was ready to put on the first coat of California Poppy.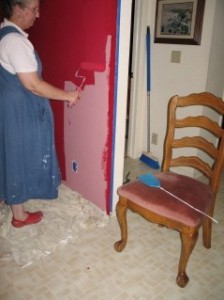 My, but that paint still looked awfully pink!  I think it was a combination of the pink primer and the fact that the paint dries much darker than it looks wet.  I have to tell you, I really love rolling on paint, but the cutting in that must be done at the ceiling line and corners with a brush drives me crazy!  Oh, do check out my footwear!!  Red garden clogs, the only way to paint!
I knew that the wall would need at least one more coat on Saturday.  I quickly changed into my painting clothes after lunch and applied a coat of paint.  Dani and I anxiously watched as it dried.  Would two coats of paint over the primer be enough?  We watched for most of the afternoon as the paint dried and the light changed.  Finally, at about 4:30, we both thought it would be prudent to roll one more coat of paint, just to be sure.  I quickly put a couple of dozen chicken thighs into the oven so that they'd be ready for our church fellowship meal on Sunday.  They baked while I painted.  Afterward, while I was outside in the dark cleaning out the roller, brush, etc., Dani was in the house surprising me by fixing dinner.  Tostadas, yeah!!!!
On Monday morning, Copper got started on installing the base board bright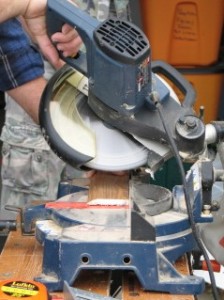 and early. The baseboard was measured and cut. The compressor for the nail gun was fired up and the baseboard was soon in place.
The thirteen year old even got a chance to fire the nail gun a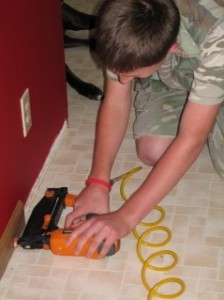 few times!!  (Yes, Lisa, he IS wearing his cammies.  Again.  If they're clean, he's wearing them – torn out knee and all!  Just so you'd know!
)
While Copper worked on the baseboard, Dani and I started washing up all the things we'd pulled out of the hutch Saturday.  It took us about an hour of my washing and her drying, but it was such a joy to put the sparkling clean dishes and glassware back into the hutch.  I took just a few minutes to clean the glass inside the hutch, as well as the glass shelves, before replacing everything.
Copper rehung our three pictures, and the job was done!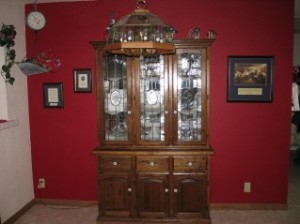 I am so pleased!  The color is exactly what I wanted – It's the same color as my red Kitchen Aid Mixer!  I just love it! Here's the cost rundown:
Cost of 1 gallon of paint, $19.98
Cost of one piece of baseboard, $9.35
Sales Tax, $2.27
Sub-Total $31.60
Subtract the FREE $25.00 gift card from My Points
Total out of pocket cost, $6.60!!
God bless you as you look well to the ways of your households!
Proverbs 31:27
Remember to pray for Karen!