Whew!!!  I'm tired!  We've been going nonstop, pretty much, since Thanksgiving Day.  As I've already mentioned, I spent the day Friday sewing.  All day.  Saturday was spent with the normal all day laundry routine, along with our normal Sunday preparations, and more sewing.  Monday morning we packed up all of the fall decorations, and Copper and the boys hauled in our boxes (andboxesandboxes) of Christmas decorations.  Once we finished lunch on Monday, we began decking the halls in earnest.
Funny thing.  For the last few years, we've placed our big Christmas tree in the

school room, but just inside the wide doorway between the living room and school room.  Last January, we bought the seven year old a ten gallon aquarium for his birthday.  Track with me now, these are related!  In deciding where to put the aquarium, and also needing to find a way to shelve more books (a never ending problem in our house),  I moved a short bookcase in that just fit on that five foot long wall where the Christmas tree is normally placed.   The aquarium went on top of the book shelf.  Voila! Copper, ever the logical one, asked then, "Where are you gonna put the Christmas tree next year.".  My answer, "Don't worry.  I've got a whole year to figure that out."
Ahem.  Back to Monday afternoon…….I still didn't know where I was going to the put the Christmas tree.  After a bit of thought, we were able to move the table that houses the kid computer and where the thirteen year old (sometimes) does his schoolwork over, and the tree is now in a nice, open area of the school room.  Whew!  I still need to find a place to house our two sets of art buckets that used to sit on the back wall that we now have the table on.  Details, details.
We didn't finish up our decorating on Monday though because we had the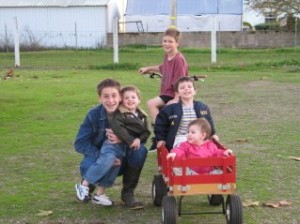 delight of having all three grandbabies here for the late afternoon and until fairly late at night.  I love seeing my grandbabies!  My sons love being uncles, too; and had a wonderful time playing outside before dinner.  My granddaughter charmed the socks off of her thirteen year old uncle!
This morning we finished up the inside decorating.  We were making a list of the things that needed replacing – a burnt out string of lights, the small Christmas tree for the boys' room, some night light bulbs for the Christmas village.  Copper took us all to town after lunch, and we picked up all the things we needed to finish things up.
Ever since we've lived in this house (this will be our ninth Christmas here), I've wanted to put up outside lights.  We hung outside lights at our old house every year, but the configurations of the outside of the house here were much different.  Our home here has several tall peaks, and lots of roof line along the front.  I've always thought that white icicle lights would look so pretty on this house.  The budget has never quite allowed such an extravagance, but I ask (just once) every year.
Copper is the BEST!!!  The BEST, I tell you!  Even though it meant spending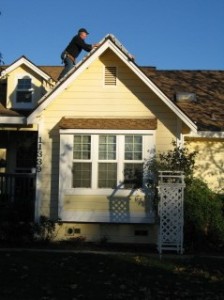 some overtime earnings, he went ahead and bought the icicle lights for our home today!  He and the boys are outside right now hanging them.  It took them a couple of hours to get all of the hangers nailed in, and I went out once to take some pictures.  Remember those tall peaks I mentioned?  Watching how Copper was intending to hang the lights from those peaks was enough to send me back inside.  I couldn't bear to watch!!
It's getting dark and I still hear a lot of running around on the roof.  Hmmmmm……me thinks the thirteen year old is taking full advantage of the privilege of being on the roof with Dad!  I'm going outside to watch the lighting of the new lights.  I may even do a drumroll………………
God bless you as you look well to the ways of your household!
Proverbs 31:27
Remember to pray for Karen!