Given Murphy's Law, I think that needing three days to deck the halls isn't too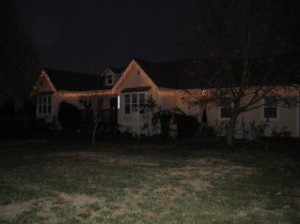 bad.  We had two trips to town for more lights.  Copper got most of the outside lights up before dark last night, but needed today to finish.  We had rounded up a few too many times in calculating how many feet of icicle lights we needed, though; and we ended up this afternoon with almost enough to do the really high peak of our garage in addition to the front of our house.  Copper's such a good sport!  Not only did he spend all day outside in the bitter cold hanging the rest of the lights, he even made a run to town to pick up just one more string so that the garage could be done, too.  It looks so pretty!
I finished up the inside decorating today, and then took great pleasure in taking the last of the now empty boxes out of the house.  I'm looking forward to sharing some of our decorations with you in the coming days.  The boys have the little tree in their room almost fully decorated.  They seven year old got a head start on things while his older brother dawdled over finished up his school work for the day.  He very sweetly divided the ornaments for their tree and put up only half on his own, leaving the other half for his brother.
All was not fun and games and Christmas decorating today, though.  The boys and I were back to homeschooling today.  After several days off, and with Dad still home on a long weekend, it was tough for them.  We muddled through and got things done.  Tomorrow will be better, though my husband will be back at work.  I love having him home for his four day weekends.  Even though he's supposed to have four days off every other week, we rarely have that pleasure, as he usually puts in to work overtime on his fourth day off.  There was no need for anyone extra today, so we got to have him home!  My husband is a hardworking man, and I very much appreciate the sacrifices he makes so that I can stay at home and homeschool our children.
After the fun of the Thanksgiving holiday and then our annual Christmas decorating day(s), it will be good to settle back into our routine for a couple of weeks or so.  I love the sameness of our homeschool weeks.
We're also enjoying listening to Christmas music during the day and into the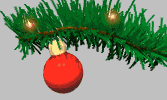 evening.  Copper surprised us by bringing home a 3 CD set from Costco the other day that is all music from various cathedral choirs.  Some of these sacred pieces are unfamiliar to us, but that's a good thing.  When the music and lyrics are unfamiliar, we tend to listen more closely and really have the opportunity to hear not only the beautiful music, but also the words.
I'll leave you with a quote from my commonplace book:
"Every day is a little life, and our whole life is but a day repeated.",
Elizabeth George, A Woman After God's Own Heart
God bless you as you look well to the ways of your household!
Proverbs 31:27
Remember to pray for Karen!