Copper and I started out housekeeping, as they used to say, very modestly.  In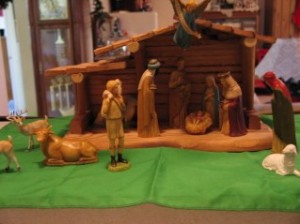 fact, our first few Christmases were pretty sparse.  When Copper's dad re-married in 1983, his bride, Meg, gifted us with a cute little plastic Nativity set.  Corin was three years old and Dani was a new born, so a plastic set was perfect.  I found the wooden crèche  for it in a 75% bin at Hallmark the following March!!  This is the set that my girls grew up with and played with.  We've usually kept this set on our coffee table where little hands are allowed to explore it.  This year it's in the window over my kitchen sink that looks into my living room.
About fifteen years ago, we splurged and purchased a really nice Nativity set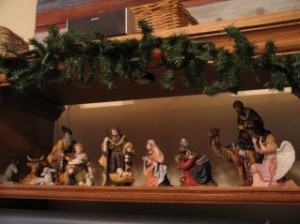 from Costco.  We have always enjoyed displaying this set. This year we have it displayed on the entertainment center in our living room.  It's large, colorful pieces are so beautiful.
Copper made this outdoor Nativity for
us many, many years ago.  In fact, I don't even recall how long it has been.  Honey?  Any idea?  There has always been some talk of adding pieces to this outdoor display, but it remains now as it has always been.  It was certainly heartwarming this year to watch our thirteen year old son outside setting this up by himself for the first time. Time marches on!!
A few years ago my boys discovered the wonders of Playmobil. They
enjoyed their Playmobil sets very much, so purchasing this Playmobil Nativity proved to be a big hit. This year I have it on a drop-leaf table in the kitchen.  It's fun to pass by and see the changes that the boys have made.  This set is especially fun for the older kids.  The figures can all be posed, and there is even a chest containing the gold, myrrh and frankincense.
A friend of mine made this fun felt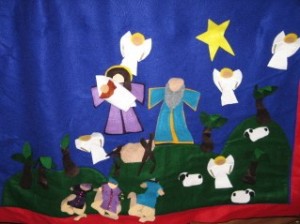 Nativity set for me a few years ago.  My children have enjoyed this one as well.  In fact, I noticed when I was unpacking it this year that it needs a few minor repairs.  Time to get out the hot glue gun!
Among my most treasured Nativity Sets, though, are those that we inherited from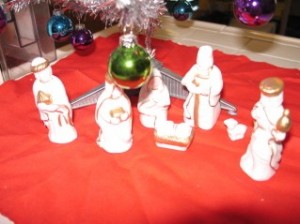 Copper's mom.  This tiny, little set was one of hers.  I have it nestled under the tiny silver tree on the counter between the school room and kitchen.  The largest of the pieces is only about 3 1/2″ tall.
I don't remember my mother-in-love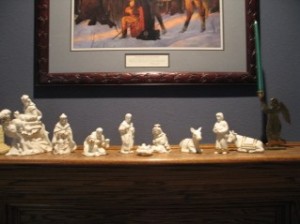 setting this set out. Girls, do you?  The box says it is "jade porcelain".  I love the elegance of the large, off-white figurines that are embellished with gold and jewels. This is our second Christmas without Lola, and this is the second Christmas that this beautiful set is displayed on our mantle.  This is my favorite set!
This is another one of Lola's sets.  It's very similar to the one on our entertainment
center, but it has a lot more detail.  This Nativity is set on the chest in our entry way to greet all of our holiday visitors.  The pieces are actually quite large.  The wise man with the camel is about 9″ tall.
One more little set of Lola's.  This one is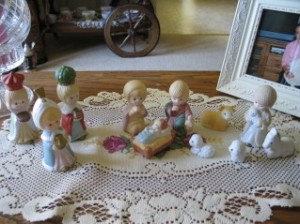 reminiscent of Precious Moments figures, though it isn't that brand.  I have this little set on the coffee table in the parlor this year.
Last year when we were decking the halls, we discovered that we were missing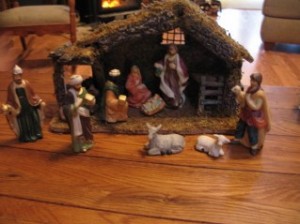 some pieces from our very first plastic Nativity set (the one I mentioned earlier). We were missing Joseph and Jesus.  We set it aside, hoping to find the pieces later (and we did!).  I went to Wal-Mart and found this set while we were still searching for pieces.  While it's not plastic, it is very touchable; and I do allow the children, grands included, to handle it carefully.  We keep this set on the coffee table in the living room so that it can be enjoyed readily.
This cloth Nativity is also a Wal-Mart find from last year.  The pieces are all cloth,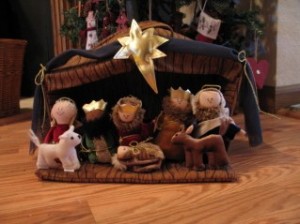 nothing breakable.  The pieces Velcro into their spots so that they can stand up.  The floor folds up across the front and can be carried around by the handle on the top.  My 17 month old granddaughter had a great time with this set when she was here the other day.
Most of the Nativity sets here are where they can be handled and touched.  Yes, we do occasionally end up with missing pieces.  They are usually found, though, when the couches are moved or a drawer is cleaned out.  Amazingly, nothing has been broken. A few chips here and there, but all of the pieces are still entact.  I want my children, and my grandchildren, to be able to move the pieces around.  The youngest do not yet know the story of our Savior's birth, but I can give them a few words of the story as they handle the pieces.  The older children, of course, can re-enact Christ's birth with the sets.  I can always tell when my seven year old has spent some time with one of our Nativity sets. When he has, all of the pieces, from the lowliest of the animals to the loftiest of the wise men, are all huddled as closely as they can be toward the manger with all eyes facing Jesus.  I think he has the right idea.
God bless you as you look well to the ways of your household!
Proverbs 31:27
Remember to pray for Karen! (updated!)