I'm making some fairly good progress on getting my projects all finished before Christmas.  It's beginning to look do-able, but just barely.
If I'm able to finish it all up, I'll have quite a few pictures to show you.  After Christmas, of course.
I did finish up another apron for our home this week.  This is another border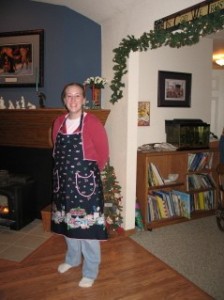 print that I bought at Jo-Ann's last summer on a 50% sale.  Dani's always such a good sport to model our aprons for me!!  The print is on a navy blue background and it's just covered in the most mouth-watering desserts you've ever seen!  There are touches of holly sprigs mixed in as well for that Christmas touch.  I included a second picture so you can see a bit more detail.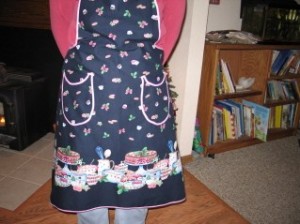 Here is the current tally of projects and how I'm doing.  It sure is nice being able to have so many more things ticked off this week.  Just a few finished, but several things cut out.   My back is still reminding me it's not the back of a young woman.  Bending over the kitchen table to lay out and pin pattern pieces and then cut out the patterns is difficult.  I spent the early part of today cutting out several things.  Doing the cutting early in the day allows me to work at it a bit longer.  If I have things cut out, I can sit down and sew during little snippets of free time.
I'm sewing as I can during the day and early evening, and then knitting in the evening after my husband comes home from work.  It's a good plan that is serving me well.  Knitting in the evening is relaxing and allows my back some rest time.
The only things I'm a bit stressed over finding the time to complete are the things I'd like to make for Dani.  I'll have to block out some time on Thursdays when she's gone to work on those I guess.
Knitted Projects – 18 +
Knitted Projects Begun – 9
Knitted Projects Completed – 5
Gift Sewing (Garments) – 21
Garments Begun – 5
Garments Completed – 2
Non-Gift Sewing (Garments) – 6
Non-gift Garments begun – 4
Non-gift Garments completed – 3

Sewing (other projects) – 20+
Other Sewing Begun – 18
Other Sewing Completed – 2
Non-Gift sewing (other projects) – 14
Non-gift sewing begun – 6
Non-gift sewing completed – 3
Paper craft Projects – 12 (I don't know if this is one large project, or a dozen mini-projects!)
Paper craft Project Begun – 0
Paper craft Projects Completed – 0
Needlework Project – 1
Needlework Project Begun – 0
Needlework Project Completed – 0
God bless you as you look well to the ways of your households.
Proverbs 31:27
Remember to pray for Karen!