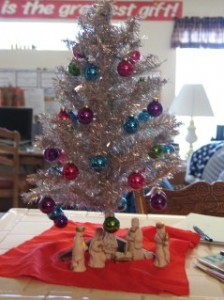 Over the years I have enjoyed buying an assortment of Christmas trees.  We enjoy having a decorated tree in all of the rooms in our home.  I shared a picture of our big, family tree in an earlier post.  Today I'll show you the others.
This little silver tree is at the command center (the counter/breakfast bar between the kitchen and the schoolroom.).  The tree is only about a foot tall, and the ornaments are about an inch tall.  I love this little tree in all of its retro glory!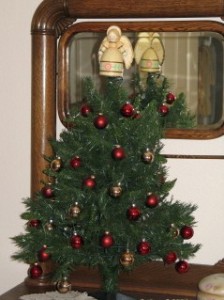 This is the tree in our bedroom.  It is a three foot tall tree, covered in about 100 white lights and decorated with red and gold ornaments.  It's lovely at night!  I'd love to keep it on all night, but that would not be very wise electric bill-wise.
This little tree, like all of our others, is an artificial tree.  It was also very inexpensive (a Wally Mart special).
Here's the tree in the boys' room.  It's the same tree as the one in my room, but as you can see it is decorated much differently!  There are white lights on it, but the boys tree is decorated in bright blue, turquoise, purple and magenta. I think it's very pretty!  The boys really enjoy having a tree in their room!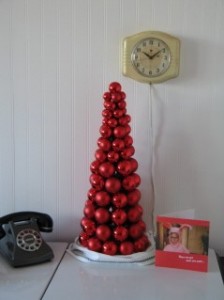 My Dani girl has quite a flare for decorating.  Understated.  Traditional, but with a definite touch of whimsy.  And red.  Always red.  This lighted red ornament tree just cried out "Dani!" to us in the store, and she has displayed it in her room for Christmas the last several years.
A couple of years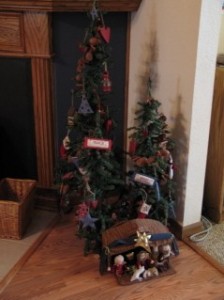 ago I was able to put up these three little trees in the living room.  For years I knew exactly what sort of trees I wanted in there, and how I would decorate them.  I was so glad to stumble across just the right thing and find just the right ornaments, all from either Wal Mart or Target and all on sale!  This picture is a bit dark, but there are three skinny trees here, in varied heights and they are lit with white lights and decorated with folk art ornaments – wooden trees, bird houses, red lanterns, wooden cardinals, bells, etc, all in red, blue and cream.
I have two trees in my parlor.  The first one is a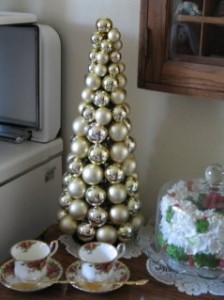 lighted gold ornament tree, just like Dani's red one.  This one is displayed on my tea cart.  I love having this tree.  It, and the red one in Dani's room, just look like something my mother would have dearly loved!
The other parlor tree is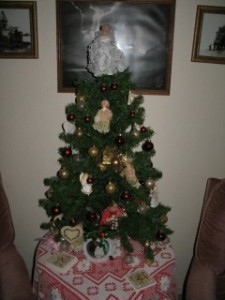 on the side table between two chairs.   This one is decorated with a bit of a Victorian flair.  As with the others, it is lit with white lights.  There are ceramic jointed dolls, and some angels that belonged to my late mother-in-love and some gold ornaments sent to us by the local rescue mission.  Near the bottom you can see a clear ornament with a picture of my daughter, Corin, on her wedding day.  There are also red and gold balls on this tree.
Please don't think that I was able to do all of this at once!!  Some of these trees are quite old, and a LOT of the ornaments are.  We have carefully purchased a few things each year, often at the after-Christmas sales, until we have been able to decorate our entire home for Christmas.  There have been years, when times were lean, that we glady put up just a few things and kept the lighting to a minimum to save on the electric bill.
The year Copper's mom was with us, we lit everything fully, and she so enjoyed sitting in the evenings with just the Christmas lights on and listening to Christmas music on the stereo.  One of my favorite Christmas memories involves that year.  Copper and the children went to Copper's dad's  family's annual Christmas Eve gathering.  Lola was not well, and I stayed home with her.  With just the Christmas lights on in the house, we watched a Christmas Eve concert from Vienna on PBS.  We had such a lovely, quiet, peaceful evening.  I'll treasure that memory for a lifetime!
God bless you as you look well to the ways of your household!
Proverbs 31:27
Remember to pray for Karen!