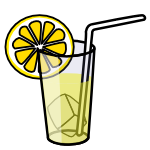 Okay, let's face it.  When life hands you a bunch of lemons, you have a choice to make.  You can bite right into that tart fruit, make a horrid face and then complain about it.  On the other hand, you can squeeze the juice from the lemons, add a bit of water, ice and sugar and the leisurely sip your wonderful, refreshing beverage.  Me?  I prefer the lemonade any ol' day!  Over the Christmas holiday, we were handed a lot of lemons.  What to do, what to do?
On Tuesday, December 19, Copper went out to finish his last minute Christmas shopping. He was going to be home in time for lunch and then take us all out to the movies, dinner, and then for our annual evening of driving around to look at Christmas lights.  We were all looking forward to this extraordinary treat and the family outing.  He came home late that morning and told me that he was having some problems.  He thought that he might have had a urinary tract infection.  He'd stopped on his shopping trip and picked up a quart of pure cranberry juice and drank it all down.  He was pretty sure that would do the trick.
We did enjoy our afternoon and evening out very much.  Copper went back to work Wednesday and Thursday as scheduled.  He didn't feel great, but he didn't feel bad either.  Friday morning, around 9:00 a.m., Copper called me from his cell phone.  He was on his way home.  He was having a bout with a kidney stone.  We didn't need a diagnosis, we've traveled this "rocky" road before, Copper and I. Poor guy!  I've never seen anyone endure so much pain as he does with kidney stones.
Since all of his prescriptions for pain medication had expired, I called our advice nurse.  She agreed to send a message to our doctor.  I was sure that given Copper's history with kidney stones the doctor would order prescriptions for him over the phone and I could just go in and pick them up later in the day.  It being cold and flu season, our doctor didn't get to his messages quickly.  Know what?   I believe in God's providence, I really and truly do.  It was God's providence that day that the doctor didn't call back right away with a prescription.
The Westminster Shorter Catechism says this about God's providence: "What is God's providence? God's providence is His completely holy, wise and powerful preserving and governing of every creature and every action."  Knowing that, and believing that, helped me a lot last Friday.  When the doctor didn't call with the expected prescription, I was prompted to call the advice nurse again.  The second nurse offered me a 3:30 p.m. appointment with our own doctor.  Since my husband was experiencing some additional symptoms,  I booked the appointment. Poor Copper, it was a rough ride into town, but we made it.
Long story short, we had two visits to the lab that day, two visits with the doctor, an x-ray, a CT scan, a trip to the injection station for two pain shots, and a trip to the pharmacy, all before heading back home.  I am so thankful for our medical insurance!  I am so thankful that our provider has everything under one roof!
Here's where God's providence became abundantly clear to me.  Copper did not have a kidney stone.  Nope.  He has at least four kidney stones, and at least a couple of them are rather large, probably too large for his body to be able to eliminate unassisted.  Had we simply treated his pain, his problems would not have resolved.  In fact, they would have continued and intensified and may have resulted in serious complications.
Saturday morning had us back in the medical building, which was dark and very empty on a weekend morning. We had an 8:30 a.m. appointment with the Urology Chief, who was on call for the weekend.  We had had a feeling that since the Chief of Urology had scheduled an appointment with us on a Saturday morning, that he was planning on surgery, so we went without eating breakfast.  As expected, the doctor scheduled my husband for surgery at noon.  As things like this go, it being a weekend and a holiday weekend at that, my husband's surgery time kept getting bumped for more critical emergencies.  He was finally admitted and taken into the surgery prep area around 6:00 p.m. on Saturday.  The surgery went well and a very hungry Copper was released around 9:00 p.m.   Against the doctor's advice, but with the consent of the surgical nurses, we made a stop at Copper's favorite restaurant (McDonald's!!) on the way home.  God was gracious and allowed him to handle that greasy burger and fries meal on his very empty anesthetized tummy!!
(I failed to mention that my wonderful husband took me to my favorite breakfast restaurant Saturday morning while we waited for the surgery time.  It's a local, family run coffee shop that has been around forever!!   He sat and watched while I ate a yummy bacon, guacamole and cheese omelet, complete with hash brown potatoes and sourdough toast. What a guy!!)
My husband continues to recover well.  He has a ureteral stent in place that is allowing his right kidney to drain fairly normally.   He was able to attend his family's annual Christmas Eve get together, which we hosted; and he was able to enjoy our Christmas Day celebration with our married daughter and her family and in-loves (who are also our dear friends.)   My husband was able to return to work as scheduled this week.  He is scheduled for a further procedure in about a month to try to break up the large stones into smaller fragments.
There is so much more I could tell you about how God went before us every step of the way…..a book would have to be written.  Suffice it to say, that our Lord has been very, very good to us through all of this.  Our flesh would have liked to have complained and grumbled about not only my husband's having to endure the pain of the stones and the discomfort of all of the testing and procedures, but also about the inconvenience of his illness happening at such a busy time of the year.  We would have fretted and stewed about what wasn't getting done in time for the holidays.  We could have panicked that some travel plans we've made might, even yet, have to be cancelled (more on this another day).
Our Lord however, blessed us with His perfect peace and we actually "enjoyed" some of our times during those days of illness.  We had good reason to head for bed early the Friday before Christmas, and God gave us peaceful, restful sleep to prepare us for our very long Saturday.  We had quiet conversations, and even did  some shopping together while waiting for his surgery time on Saturday.  We laughed at a goofy Saturday afternoon cable tv show called Mythbusters.  I sat in a deserted surgery waiting room on a Saturday night completely at peace and trusting totally in God for His hand of protection over my husband as well as over

my children at home.
Through God's mercy, Copper and I enjoyed "lemonade" from the lemons that this life brought our way.  It was cool, sweet and refreshing!
God bless you as you look well to the ways of your household!
Proverbs 31:27
Remember to pray for Karen!