Here we are, just days from Christmas Day.  I've been slow in sharing with you the long-promised pictures of the decorations inside my home.  I have really enjoyed visiting all of you and seeing your lovely decorations for the holiday.
About three or four years ago, I began collecting holiday nutcrackers.  Since my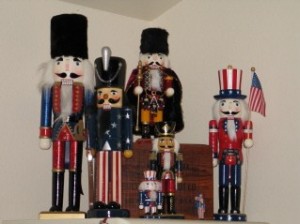 living room is decorated with a navy, dark red and cream color scheme, I've kept my collection limited to those colors.  Some have been given to me by family and friends.  Some were purchased (mostly at WalMart).  The nutcrackers measure 2″ to about 30″ tall.  My thirteen year old son arranged them this year on top of the gun safe.  He did a good job, I think.
This small, ceramic lit tree was my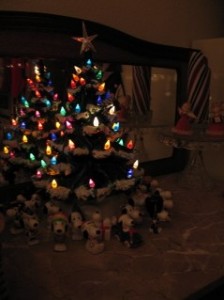 mom's.  It was made for her by a friend about 30 years or so ago.  Underneath the ceramic tree this year I have all of my Snoopy ornaments.  I started buying the Snoopy's in the mid 1970's.  I bought two or three for myself every year.  The last one was bought the Christmas of 1979, when I was pregnant with Corin.  I don't think you can tell from this picture, it's a bit dark; but several of the Snoopys are dressed in international costume.  I have one that's an English guard, a Scotsman in kilts and bagpipe, one from the far east with a turban and robe, etc.
I'm including this picture, even though it's very dark, for a couple of reasons.  One, it shows my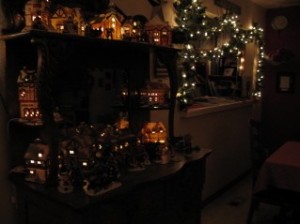 Christmas village lit up at night.  I'll try to post a better lit picture of the village later this week.  Second, you can see the lighted evergreen garlands I have in my home.  My home has several large openings between the rooms.  A few years ago, Copper and I bought a box of 25′ of artificial garland and a couple of boxes of lights.  The next year we did it again, and then again the following year.  We are now able to have the lit garlands across the large opening from our entry way into our living room, the large opening from our living room into the kitchen, the large opening from our living room into our school room, and across the top of our entertainment center and the long wall of bookcases in our school room.  Oh!  And a shorter garland across the breakfast bar between the kitchen and school room.  This picture shows the garlands across the breakfast bar and part of the garland on the schoolroom bookcases.  With the garlands and trees lit in the evenings, we can enjoy visiting with no other lights on in the house.  Very peaceful and pretty.
This is our tree this year.   The tree is in our schoolroom, just next to the opening into our mud room my sewing nook.  The ornaments are all reminiscent of my Old Country
Roses china.  About 1/3 of the ornaments have a rose design very similar to the china.  The rest are frosted white, pink or clear.  There are also several dozen pink silk roses on the branches each tied with a white ribbon.  The majority of these ornaments were given to us by Copper's Dad and his wife.  I love our tree!  The boys had a blast putting the ornaments on this year, even going so far as to lie on their backs under the bottom branches to hang some ornaments up on the inner parts of the branches. 
Oh, but our silly dog!!  She's a 75 lb. black lab, and she is a very happy dog.  So happy, in fact, that her tail wags almost nonstop.  More than one ornament has been knocked from the tree by that tail this year!  Yesterday she broke one with her tail, even though it remained hanging on the tree!  Silly dog!
Copper is off today.  He's treating us all to an outing later in the day.  We will be going to the theater to catch a matinee of The Nativity.  Afterward, we'll grab a quick bite to eat and then have our traditional evening of driving to three or four different neighborhoods in adjoining towns and cities that do a lot of outdoor decorating every year.  The overnight low is expected to be in the 20's, so we'll be bundling up!
God bless you as you look well to the ways of your households.
Proverbs 31:27
Remember to pray for Karen!