Here are some pictures of my Christmas village.  My mom bought me a few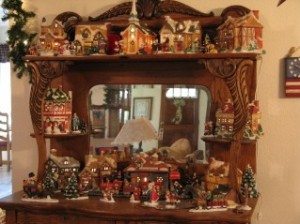 pieces to start my own village in the early 1990's, but before I really had much of my own, my mom passed away and left me hers!  I've never added to her set, and I doubt that I ever will.  I love it just the way it is, and, added bonus, the whole thing can be set up and displayed on the sideboard in my living room!  Dani set the village up for us this year.
My mom's village is the not the lovely Department Whatever village that so many folks have.  Her set was purchased over the course of several years from Mervyn's.  Do they still carry a similar set?  I know that she was delighted the year that the train and train station were introduced!  We have them front and center on the lower portion of the sideboard.
The ice skaters on the mirrored pond  always seem sort of silly to me, but I love them all the same.  Our mirrored pond has seen better days.  I think we need a Zamboni to reglaze the ice for us! Some years I have covered the side board with fabric resembling snow, but most years I just set it up this way, right on the oak surface of the side board.
I love the little details of the snow on the tips of the trees and on the corners of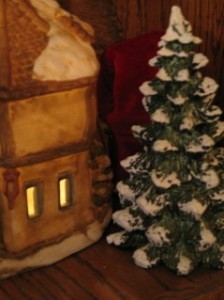 the roofs, the shoppers with their parcels tied up with string, and even the little girl placing a letter in the mail box.  We have geese and sleds and even a few deer mixed in.
Copper and Dani had way too much fun yesterday with my Christmas village.  I asked for pictures and I got them, of course (Dani works our digital camera better than any of the rest of us); but the two of them made an alteration to the village.  A particular figure from an entirely different village was introduced.  I have a rather warped sense of humor, so the new character will stay.  At least for this year.  Can you spot him?
God bless you as you look well to the ways of your household!
Proverbs 31:27
Remember to pray for Karen!