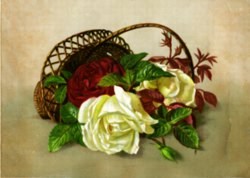 Today was the day that I was going to cut out all of the remaining sewing projects I have left to do for Christmas.  Guess what?  I had a wonderful interruption to that plan.  We received a call this morning from Copper's aunt wondering if Copper's Grandma could come and spend the day with us.  Yes!!  Of course!!!  We were delighted to have her come.
We had a lovely day with Grandma.  You will recall that both of Copper's grandmothers are still living, and we are so blessed by that.  One is 103 years old and lives in a nursing facility.  Dani goes to visit her most every Thursday.  Today, though, we were visited by the younger grandmother, the one who is only 101!
She absolutely amazes me.  There are five steps up into my home and she climbed right up onto the porch with no help required, thank you very much.  We enjoyed her company through lunch and into the afternoon.  Grandma crocheted and talked with us throughout the day.  She dozed a bit.  She certainly enjoyed sitting before the fire of our wood stove all day.
It was so much fun to have someone here who enjoys listening to my Bill Gaither Homecoming CD with me!!  We listened to the Gaithers and their friends while she crocheted and Dani and I knitted.  We made quite the picture of domestic tranquility!  Grandma and the kids watched Bing & Danny sing and dance their way through White Christmas.  She heard my boys practice the piano.
I was still able to get a few things cut out, though not as much as I'd planned on.  But you know what?  That's okay.  Spending time with Grandma was a wonderful change of plans.  Are you open to the Lord's changing the plans you have laid out for yourself?  Proverbs 19:21 says,
"Many are the plans in the mind of a man,
but it is the purpose of the Lord that will stand."
I was glad to be able to say "yes" today to Grandma's visit.  My plans?  They'll still be accomplished, Lord willing.  I learned years ago, though, to hold onto my plans loosely.  It is the Lord's plans that will stand, not mine.  Do I still get stressed out when my "to do" list is lengthy and my hours are few?  Absolutely.  Is it okay for me to be stressed out?  Nope, it's not.  Most of us know Philippians 4:6 by heart, especially the part about not being anxious.  However, the rest of that passage is very telling:
"Rejoice in the Lord always; again I will say, Rejoice.
Let your reasonableness be known to everyone.
The Lord is at hand; do not be anxious about anything,
but in everything by prayer and supplication with thanksgiving
let your requests be made known to God.
And the peace of God, which surpasses all understanding,
will guard your hearts and your minds in Christ Jesus."
Philippians 4:4-7
My stress is not from the Lord.  Where is my heart?  Stuck in the midst of my "to do" list?  Or is it fixed on rejoicing?  Must have been something that Paul thought those in Philippi really needed to hear because he told them twice  – Rejoice, he said, and again he told them to rejoice.  If I can learn to rejoice in all things and make my petitions known to the Lord with THANKSGIVING, then God's perfect peace, that peace that surpasses all understanding, will guard my heart and mind.  With God's peace guarding my heart and mind, how can stress gain a foothold?
Today I have learned to rejoice and give thanks for the interruptions.  Today I have remembered to rejoice and give thanks that both of my husband's grandmothers are with us.  I grew up without grandparents, so having married into grandparents, and Christian grandparents to boot, is a huge blessing in my life.  I will also remember to rejoice and give thanks for my seven year old (who has had a rough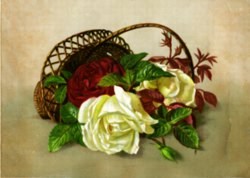 few days with his ADHD, QRS, TUV, WXY&Z).  Copper and I prayed long and hard for our boys, and the Lord blessed us with our sons rather late in life in answer to those prayers.  Rejoicing and giving thanks for my son puts things into a completely different light!
Rejoice in the Lord always, and again I will say, Rejoice!
God bless you as you look well to the ways of your household.
Proverbs 31:27
Remember to pray for Karen!