I took some time out for a little one on one with the seven year old.  It's been a rough several days for him.  We needed a day together to chat and laugh and have an adventure.  He and I loaded up into the van and headed to the library.   Corin highly recommended that I find a copy of a book that she feels we could glean a lot of useful information from.   I found the book on the shelf in a library just south of us, and then the little guy and I headed to a small city we're not used to visiting.
We had a bite of lunch and did a little thrifting.  I found a cute plate to use for birthday celebrations.  It's just the right size for the birthday boy or girl's piece of cake and a scoop of ice cream.  It was just 75¢.  The seven year old, who will be an eight year old on Tuesday, let me know that he was very much looking forward to being the first in our family to use the new, special plate!
I also found two books.  A good used paperback of Madeleine L'Engle's A Swiftly Tilting Planet, and a lovely like new hardback (perfect dustjacket, too) of Mary Engelbreit's Autumn.  The books set me back a total of a buck and a half.
The prize of the day, though, was from K-Mart.  There is no K-Mart in our neck of the woods, nor anywhere near where we normally shop.  My blogging friend, Susan, is always showing such lovely things that she finds there for her home.  There is a K-Mart in the little city we went to today, so in we went.   Remember that I decorate my home for January with snowmen, accenting with blue, silver and white snowflakes…..I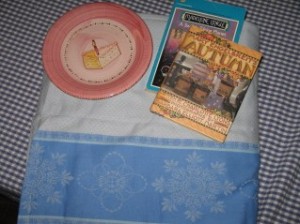 found a Martha Stewart Living tablecloth, a big 60 x 120 size to fit my table, that was blue with white snowflakes.  It was on clearance for 90% off, and came to just $1.69 at the register!!!!  I am thrilled with my new tablecloth and we'll be enjoying it for the rest of the month before it's packed away for next January.  I knew for sure it was a GREAT deal when I told Copper about it on the phone, and he said, "Wow!".   This from the man known for his stoicism!
All in all my son and I had a wonderful outing.  He was the little boy I used to know, the one I long for daily – cheerful, smiling, talking a mile a minute about anything and everything.  At one point today, he even took my hand as we walked into a store!! 
There were times today that my eyes filled with tears of joy seeing him "back".  Having a bit of one on one time was definitely what we both needed!
God bless you as you look well to the ways of your household!
Proverbs 31:27
Remember to pray for Karen!