We had a lovely, quiet New Year's Eve celebration at home, just the five of us.  It was relaxing and wonderful.  New Year's Day was spent taking down, wrapping and storing away all of our Christmas decorations.  It was a busy day, but it's nice to have the house, more or less, back to normal.  I do some January decorating with snowmen, but I've not put those out yet.  Maybe after dinner tonight.  We'll see.
We have some New Year's traditions that we continued this year, and a couple of new ones mixed in that I hope to continue in years to come.  Old traditions for celebrating the New Year include beginning to watch the entire Lord of the Rings trilogy on New Year's Eve.  Last night we watched all of The Fellowship of the Ring, and this evening we've started The Two Towers.  This is the seven year old's first viewing of this all-time family favorite, and he's watched most of it from the comfort and safety of Daddy's lap!  We'll continue watching for an hour or so each evening until we've completed the trilogy.  Hopefully by week's end.
Another old tradition that's continuing today is our New Year's Supper.  My ham and bean "stew" is a recipe adapted from Mabel Hoffman's Crockery Cookery.   This is a very old cookbook, but it is my all-time favorite crockpot cookbook!  Our supper dish is adapted from her Congressional Bean Soup, but the way I make it, it is really more of a stew.  My recipe is at the end of this post.
New traditions for us this year included watching part of an Andre Rieu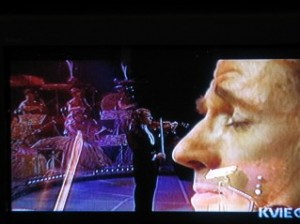 marathon on our local PBS station for New Year's Eve.  Have you ever seen one of his concerts on tv?  Very entertaining.  I found myself smiling through most of it.  I'd certainly enjoy seeing his orchestra in person someday.  We watched all of his Live From Dublin concert and a small part of his Homecoming concert.  I'm hoping that our local PBS station will do this again next year!
I also made my family a cheddar cheese fondue for our New Year's Eve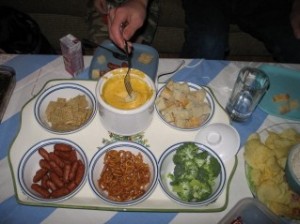 celebration (recipe follows).  Judging by my family's chowing down heartily, I think the cheddar fondue will be a new New Year's Eve tradition!  I don't own a fondue pot, so I put our fondue into my Little Dipper crockpot, with the dishes of dipping foods around it.  We had Triscuit crackers, pretzels, broccoli florets, cubes of garlic bread and heated up Little Smokies wieners.  Yummmy!  We also had, at  Copper's request, Ruffles chips and french onion dip, a tradition for him since he was a kid.
Tomorrow will have us returning to our normal routines and schedules.  After a couple of weeks off, I'm sure we will all be a bit slow.  I always love getting back into the swing of things, though.
However, things at my house are not going to really get back to normal for another couple of weeks.  Why, you ask?  Hmmmm…….I'm not telling.  But here's a hint:  My husband has worked a LOT of overtime these last few months, without telling me why.  Seems he had a surprise in store for someone's 50th birthday.  More later
New Year's Day Ham and Bean Stew
1 lb. white navy beans, rinsed and sorted
8 cups water
1 meaty ham bone*
4 or 5 stalks celery, diced
1 large onion, diced
1 heaping Tablespoon dried parsley flakes
1 tsp. salt
1/4 tsp. pepper
1 bay leaf
New Year's Eve (or night before serving) In large pot, heat beans in water.  Bring to a boil and boil for two minutes.  Remove from heat and let stand for 1 hour or so.  Then, put the beans and water and all remaining ingredients into crockpot.  Cover and cook on low for 14 hours, or so, overnight,  or until beans are completely soft.   On New Year's morning (or day of serving), turn crock pot off and put the crockpot into the fridge.  Once the pot has cooled, remove ham bone and cut all the meat from the bone, cutting into bite-sized pieces.  Return meat to pot and discard bone.  Two hours before serving, turn crock pot back onto high and let cook until heated through.  Remove bay leaf and serve.  *I always save the remainder of our Christmas ham for this dish.  There is always a generous amount of ham left on the bone.  This year, there were 5 cups or so of meat that was cut off of the bone and put back into the pot!  This is delicious and a wonderful meal when served with some crusty, buttered hot garlic bread.
—————————–
Cheddar Cheese Fondue
1/4 cup butter
1/4 cup flour
1/2 tsp., salt
1/4 tsp. pepper
1/4 tsp. ground mustard
1/4 tsp. Worcestershire sauce
1 1/2 cups milk
2 heaping cups grated cheddar cheese
In a saucepan, melt butter.  Stir in flour, salt, pepper, mustard and Worcestershire sauce until smooth.  Gradually add milk, stirring constantly.  Heat to boiling, stirring constantly.  Cook and stir until thickened.  Reduce heat and stir in cheese.   Cook and stir until melted and smooth.  Transfer to fondue pot (or to Little Dipper Crockpot) to keep warm.  Serve with bread cubes, brocolli, ham cubes, cocktail weiners, etc.