By God's good mercy, we made it through last week!  Hooray!  I knew going into it that it was going to be "one of those weeks", but hoooooeeeeee, am I glad I'm on the other side of it now!  Did I mention God's mercy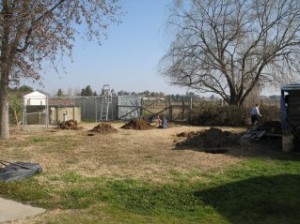 already?  Yes?  Well, He just so continually amazes me in the way He is with us in even the small things of life. Like broken septic systems. But I digress…..
The septic system was fixed, with much hard work and effort by my husband and our 13 year old son. The guy that came out to empty our tank for us, graciously told Copper not only how to unclog our crusted over dry wells, but also told him where to go to buy the chemicals, and what to say when he got there so that the hardware store owner would actually sell him the caustic soda required for the job! The job was completed and all the holes were filled in before company arrived on Tuesday…….
……to celebrate our youngest son's eighth birthday!! I cannot believe that my "baby" is 8!! He had a wonderful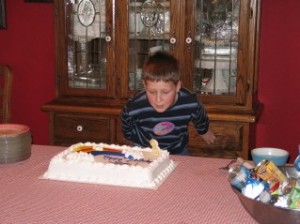 family birthday party and had a wonderful time examining his new books, Legos, clothes, etc. When it was all said and done, we still had about half of his birthday cake leftover to pop into the fridge for…….
……breakfast Wednesday morning. Yes, we do have birthday cake for breakfast! Ask Kelli!!  She knows all about it and heartily approves!
Copper couldn't quite bring himself to join us for such a sweet breakfast, but the rest of us enjoyed it immensely. Yes, I did allow my youngest son to have some the morning after his birthday, too, even though I knew we would see the effects of the sugar and food coloring for days afterward. His birthday only comes around once a year!
Wednesday also had us to the hospital for all of Copper's pre-op appointments and lab work. The urologist sprung a not-so-nice surprise on us, though, and put Copper on a clear liquid diet from Wednesday noon until Thursday midnight, when he had to begin his pre-op fast. Bummer! Poor guy! He survived, though he was VERY happy to eat a meal Friday evening!
Thursday I was planning on all three children and I going to visit the two great grandmas at the nursing home. However, a nasty virus had invaded their facility and just so happened to have worked its way into both of their wings. We are very thankful that only one had the virus, and she's recovering nicely now; but the nursing home placed both wings on "lock down". I have to tell you, I object to that term.  My husband, being in law enforcement and working a number of years in a large jail, will tell you that a "lock down" is not a good thing.  In any event, we were not able to visit the grandmas, sooooooo…………
……..I took all three kids out to run some errands, then to lunch, and then to a matinee. Yep, we went to a movie for no reason at all. Guess what? We had a blast!! I even splurged for the LARGE bag of popcorn that they will refill once for free. What a fling!
Friday was Copper's surgery. I want to thank those of you who were praying for my husband. The urologist is hopeful that his stone(s) responded favorably to the shock waves. Time will tell. While we were waiting in the surgery waiting area, Corin and her husband stopped in to show us the minutes old ultrasound pictures of our fourth grandbaby, another girl! That will give us a grand total of two grandsons and two granddaughters come June!
All in all, though it was busy, it was a good week. I got quite a bit done around my home in the brief intervals that I was actually here, and I did a ton of reading on Friday while I was at the hospital all day. My Dani girl was away most of the day Saturday and through the night helping out some dear church friends. I missed her, but am so thankful that she was able to go. She is, in a way, my hands that I can send out to minister when I am unable to myself. I'm so proud of her!
God bless you as you look well to the ways of your households!
Proverbs 31:27
Remember to pray for Karen!