Last week I felt the need to make a change in the master bath.  Just some little something to spruce it up a bit.   I wasn't sure, exactly, what I could do to effect a change; but I knew I'd know it when I saw it!
A trip to the grocery store at just the right time was the inspiration I needed.  My wonderful deep discount grocer had just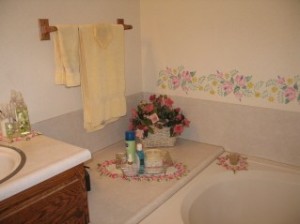 received a shipment of very nice houseplants in 6″ pots.  They had a huge variety and I arrived while the selection  was still at its peak.
Once I came home, I quickly disposed of the tired, old silk flower arrangement that was at the back of the bathtub.  I loved this arrangement, but it was very old and showed its age.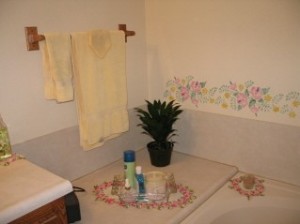 The new plant looked good in its place, but something  was missing.
I checked the next time we were at the big box hardware store and found a lovely pot.  I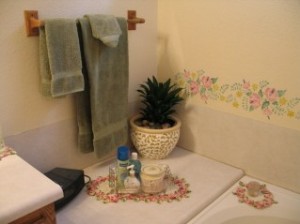 repotted my new plant, added some shiny pebbles to cover the dirt on the top and now I have a lovely new look to the back corner of my bathtub!!  It's not much, but it really did change the feel of the whole room!