(originally posted August 15, 2006)
Daily Planner. Day Runner. Homemaker's Journal. Mom's Brain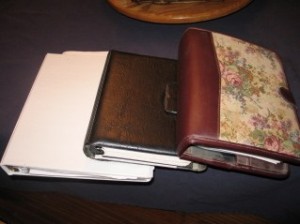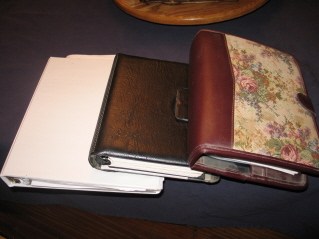 (one of my favorites!).  All these terms refer to the same Homemaker's Servant – the Planner.  A lot has been written in magazines and on the web in the last few months about this servant.  However, I've not seen any that feature the computer.  That's always seemed funny to me, especially on all the web sites and blogs that I've been reading about planners and homemaker's journals and such.  The computer is such a useful tool and one that, obviously, we all have some skill with.

Over the years I've had several planners. I've bought pretty pages at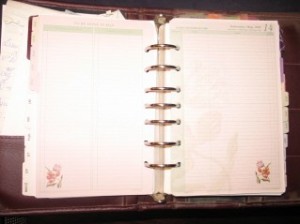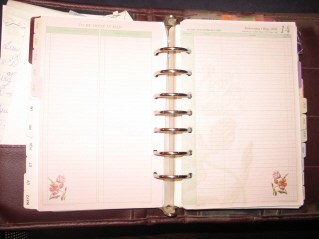 the stationery store and filled them out. I've bought pages especially designed for homemakers.  I've had the pretty tapestry-type binders and HUGE 3 ring binders.  I've bought planners designed for home schooling moms.  I've even designed and printed my own planner pages.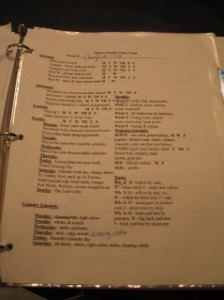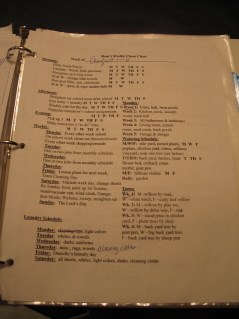 There are several problems with paper-based planners.  They are expensive. They are time intensive to set up and maintain.  And if circumstances necessitate a change to your daily, weekly or monthly routines, you can end up with messy pages full of crossed out (or whited out) writing and then new writing squeezed into the left-over space.  So much for those pretty, expensive floral pages you bought!
A year or so ago, while messing around  experimenting on our new PC, I noticed that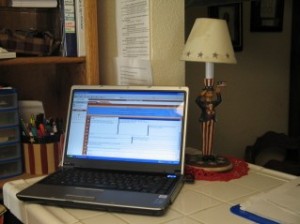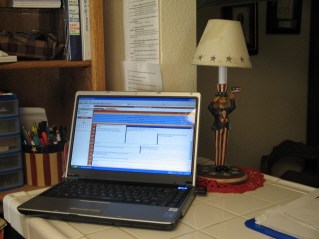 MS Works (which comes installed on most PCs) had a Calendar feature. If you have MS Works on your computer check it out! Just open MS Works and there should be a button, toward the upper right hand side of the page that says "Open Calendar". Clicking that button will open a blank calendar page for today's date, and a tutorial for the rest is readily available (either popping up on its own, or just a click away, depending on your settings.)
This calendar has been my only planner since that day.  I can enter all of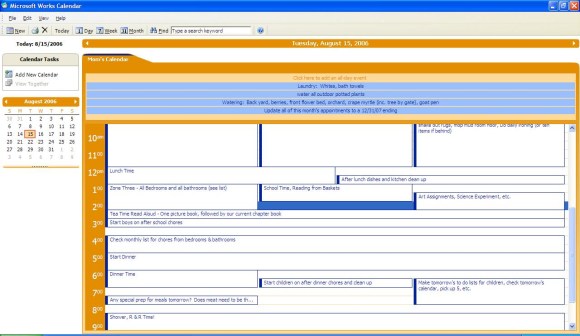 my daily chores and have them recur as frequently as I like and run for as long as I like. The same with my once a week chores, my monthly chores, my semi-annual chores, etc. My homeschool schedule is kept here as well. Family birthdays and anniversaries are all entered and are set to repeat for 20 years. Appointments can be entered as easily as you could pen them onto your wall calendar.  There's even a nifty reminder feature that you can use for any entry that will remind you of your appointment, chore, etc., in advance!  No more forgetting to shop for a birthday present, or forgetting to mail off that anniversary card.
The real beauty of the computer-based planner, though, is the ease in which I can change my household or homeschool routines. For example,  I recently decided to begin spending every other Friday afternoon at Corin's house working on projects with her there.  It was very simple for me to enter this into my planner, and have the computer automatically enter it for every 2nd Friday.  However, Friday was the day that I dusted, Webstered and cleaned up my living room.  Again, deleting that Friday chore (which was scheduled for every Friday for the next year!) was done with just a couple of mouse clicks.  I  then decided to re-schedule the living room cleaning for Thursdays.  I simply entered it into the next Thursday for the time of day I wanted to work on this, and then told the program to repeat every Thursday through December, 2007.
I hope I am making this sound as simple as it is!!! I believe that I spent just one afternoon, initially, entering in my daily chores, weekly chores, monthly chores, etc., all birthdays and anniversaries, and any upcoming appointments.  That's about the same amount of time filling out a paper planner would have taken me.  But, the program keeps my schedule going and repeating for me for as long as I want it to.  I never have to re-enter the same things again!
I keep track of Copper's days off in my planner (he has alternating days off and it's so cool having the program automatically enter these for me rather than my flipping through the calendar figuring which Wednesdays he'd have off and which he would work). I can schedule in library books being due, on-line book club order due dates, placing of monthly or quarterly orders, etc. with just entering the job once and then selecting how often it should occur.
The program will allow you to keep up to four different calendars, which you can name individually and then maintain separately, or merge if you like.  The calendars are individually color coded.  For awhile, I kept my own calendar and separate calendars for the boys, but I found this too cumbersome. I now just keep the boys' calendar as part of mine.
My calendar is the first thing that I open on my laptop every morning. It's open all day, though I shrink the window down when I'm not using it. I can then pop it back open with just a click!  I track along through each day checking on what I should be doing now (or next), and what the boys should be up to.
I do back up my calendar once a week, saving it onto my flash drive – just in case.
With the new school year upon us, many of us are working out our new schedules and fall routines. Before heading to the stationers to buy those expensive new planner pages, give the MS Works Calendar a try!! It's easy to use and best of all, it's free!!  I LOVE it!!

God bless you as you look well to the ways of your household!
Proverbs 31:27
Remember to pray for Karen!