Yesterday I mentioned that I needed to take a walk about our little homestead to check on whether or not any irrigating was necessary.  Thankfully, the ground is still moist and all the plants are doing well. It was a gloriously warm day, and we quickly discarded our sweaters and walked about outside in just our short-sleeves!  I even sent the seven year old back into the house to open the windows!  Warm, sunny, wonderful!
After strolling through the orchard, vineyard and berries, Dani and I walked out to the front yard  I have roses planted all along the side of our garage, along the front walkway to our home.  For several years the roses have been quite happy there, with their western exposure.  However, the teeny, tiny sycamore tree that was planted in front of the garage by our home's former owners, has now grown to a massive, huge tree!!  The roses did not do so well last summer as they were in the shade for the entire afternoon.
Dani and I decided that the best place for the roses will be out just past our little citrus grove (which is in our front yard area), along the fence separating the citrus grove from our large pasture.  The roses will have full sun out there, and they will form an attractive hedge in front of the wire fencing.  I will miss having the roses along my front walkway, but I will be more likely to cut the blooms from the bushes to bring inside for arrangements.  I've hesitated to cut them before because I wanted the roses to be pretty along the walkway for family and friends.
Hopefully, in a week or so, and after Copper and I have returned from our trip, the roses can be moved after their winter pruning.  If the weather holds and the ground isn't too wet, perhaps my husband can even run the rototiller through the area where I want to plant the roses.  We'll have to wait and see on that one.
Dani also discovered that one of the trees that grows along our front fence had put up several shoots.  We have quite a few trees that grow just outside our front fence, but there are also several gaps where nothing is growing.  We suspect that the former owners had planted the entire fence line with several different varieties of trees and large bushes, but only about half were there when we moved in.
I put the thirteen year old to work digging up some of these little saplings.  We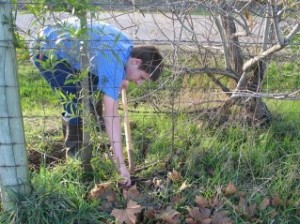 transplanted five trees in all.  Three are just little saplings and will likely not even know they have been moved.  Two, though, turned out to be 8 – 10 feet tall.  They may be too big to have tried moving, but time will tell!
While my son and daughter dug up the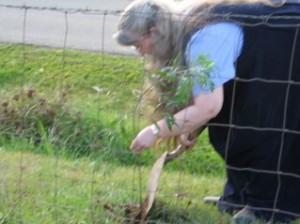 trees, I put the three littlest saplings into their new home.
There were a few times when I wasn't sure who would win, the trees or the
kids!!
Our across the road neighbor ventured over to see what we were up to, since we were all standing almost in the road!  He's lived out here for 30 years and we always love hearing about the good old days when our property was the town dump!  I'm not sure why it tickles him to tell us that!
There are now five little trees planted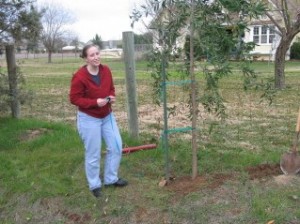 in the largest gap along our fence.  This tree fills in quickly, so I'm hopeful that these will be nice in just a few years.  Dani tied the largest tree to a t-post stake and we came in.  Remember that nice, warm, sunny day we were having?  By the time we came in, storm clouds were filling the sky and some much needed rain was headed our way.
Tomorrow, I promise, I will tell you all about the wonderful trip Copper has planned for us!!  You've all been good sports to let me tease you about it this week.
God bless you as you look well to the ways of your household!
Proverbs 31:27
Remember to pray for Karen!