That's what I said, frequently, to my husband this last week.  "Hey, we're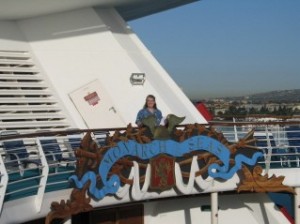 cruisin' ", or something quite similar.  Truth be told, I always thought that cruise vacations were for the hoity-toity crowd.  Folks who would be dressed to the nines with their fancy sportswear by day and classy evening wear by night.  I have to tell you, I was SO wrong.  Happily, very wrong.  The folks on our cruise ship were all, for the most part, just regular folk.  In fact, I'd count it a highlight of the trip that we met so many really nice folks and had so many great conversations over meals, or after meals, or while travelling on shore excursions.  We even met the UCLA Christian Fellowship in the airport at LAX!  They were right behind us in the never-ending security screening line, and one of the young men struck up a conversation with us, asking about why I had so much joy in my life!! 
Our plane flight to LAX was uneventful and quick.  After a bit of a wait, we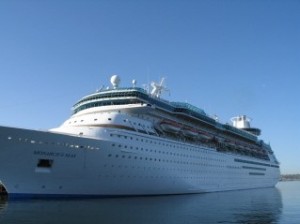 were on our way to San Pedro Harbor in a "shared ride van".  (Note to self:  Next cruise, book the ride to the harbor with the cruise ship people!)  Very soon, we could see our ship and were amazed at how HUGE it was!!  Funny thing, we found out on the cruise that our ship, The Monarch of the Seas, is actually the smallest vessel that Royal Caribbean sails.  Wow!
Our first day on board was spent settling into our stateroom.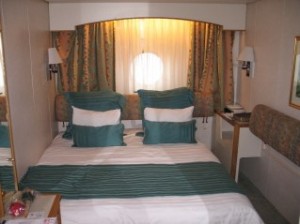 heeheeheeheee….jokes abounded  among our fellow travelers about the "staterooms".  They are, in actuality, very tiny!  However, very little time is spent in the cabin, so the size is really not a big deal, until the two of us were trying to get ready to go somewhere in the morning or evening and there was no room to pass by one another without one of us either sitting on the bed or stepping into the bathroom!!
The main event for the first day was the mandatory Life Boat Drill.  All passengers must present themselves at their muster station wearing their life jackets.  Each muster station group was over a hundred people.  As soon as it was determined that we were all present and accounted for, and were wearing our life jackets properly, a short demonstration was made by the crew as to what would happen in case of an actual emergency at sea.  (Note to self:  Do NOT go early to the life boat drill.  In fact, wait until the final call.  That way you do not end up in the middle of the pack at the muster station.  (see #3 in the Six Weird Things About Me meme).)
Our first port of call was San Diego.  I love this picture!!  It looks as though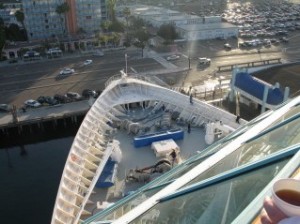 the ship's captain just drove that big ol' ship right up to the side walk!  Copper and I took a 2 1/2 hour open air trolley tour all over San Diego.  Our tour guide was good and humorous and we enjoyed the tour quite a bit.  The weather in San Diego was BE-A-U-TEEFUL.  Sunny.  Temperatures in the upper 70's.  Gorgeous!!  After our trolley tour, we returned to the ship for lunch and then made our way, via a bike taxi, to Seaport Village for some shopping.(Note to self:  Even though the bike taxi guy SAYS that it's just $3/person, he will NOT have change for a $20 at the other end.)
One highlight in San Diego for us was being able to see the H.M.S. Surprise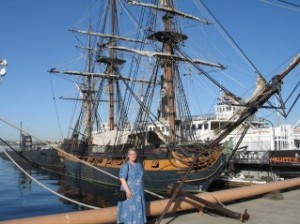 from the movie, Master and Commander.  Copper, Dani, and I are huge Patrick O'Brian fans, and are reading our way through the entire Aubrey/Maturin series.  Also within easy walking distance from the ship were several other historic and/or well-known ships, including the U.S.S. Midway Aircraft Carrier, which is now a museum.   (Note to self:  If I ever return to San Diego with my boys, the U.S.S. Midway will be a MUST do!!)
The night we left San Diego was also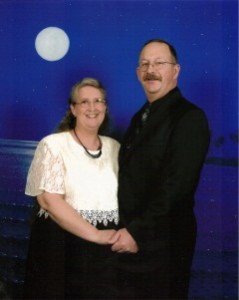 "formal" night onboard.  It was so much fun to see everyone dressed in their finest.  I saw a group of Japanese women in very beautiful, formal kimono.  I saw a handsome African couple dressed in formal, yet very African, attire.  What a treat!  All other nights the attire for dinner, even in the dining rooms, was "semi-casual".  There were four different venues giving us the opportunity to have a formal portrait made.  I love the picture taken of us!!  Copper in his best suit and me in my, ahem, mother-of-the-bride dress from Corin's wedding.  And I thought I'd not have another opportunity to wear that dress!  Glad I kept it!
We had a lovely evening, and attended one of the ships nightly shows in the 1,000 seat on-board theater.  The weather was gorgeous well into the evening, and Copper and I enjoyed a late-evening stroll on one of the outside decks that encircle the ship.  So beautiful!!  The lights of San Diego were just specks in the distance.  The seas were calm and it was a glorious night.
Our second port of call was Catalina Island.  I woke up ridiculously early that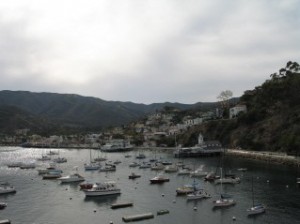 morning, and kept peeking out our port hole window.  As soon as I spotted land, I knew we must be preparing to weigh anchor.  It is not possible for a cruise ship to dock at Catalina, so all guests needed to be tendered in on smaller vessels.  Since I was ready for breakfast before Copper, I ventured up to fetch myself a cup of tea and go for a stroll while he finished up.  As I stood on deck that morning, I have to tell you that I got a bit misty eyed.  I suddenly remembered my mom saying that she would like to visit Catalina someday.  Of course, she never realized that dream.  It was a bit melancholy for me to be there knowing that it was something she had always wanted to do.  However, my melancholy is mine alone, as my mother no longer knows anything by eternal peace with her Lord.
Copper and I took the tender to shore after breakfast and took a leisurely stroll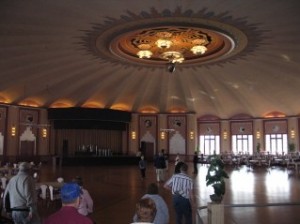 the several blocks to the Avalon Casino, where we took a guided tour of this beautiful Art Deco theater and ballroom.  We were really taken by the beautiful inlaid woods, and gold and silver leaf inlays throughout the building.  The views from the balcony of the ballroom, which is eight stories up, were breathtaking!   Another thing that really stunned me, was the fact that this building was called a casino.  Like most Americans, when I think of a casino, I think of a gambling house.  Not so!  The word casino actually means "gathering place" and/or "place of entertainment".  I think it's very sad that the gambling industry has been able to take a perfectly good English word and twist it to mean something that it does not.  The Avalon Casino is still fully funtioning as a movie theater and ballroom facility.
After our tour, we walked back into the town of Avalon for some lunch and
shopping.  I will tell you that I was disappointed in the shops in Avalon.  I had expected there to be mostly specialty type shops.  Instead, 98% of the stores were all the same t-shirts, mugs and postcards.  Too bad.  The weather on Catalina went from cool, to cooler to almost cold as the day progressed.  We strolled leisurely along, browsing through the shops and admiring the beautiful scenery.  It was neat to see the ship at anchor with the tender boats ferrying folks back and forth all day long.  Please look carefully…there is a tender boat along side the ship in the harbor.   It's about mid-ship in this picture.  Please note, the tender boats were three decks tall and seated a couple of hundred people, and yet look how tiny this one looks alongside the cruise ship.
That evening was a late night for us.  Now, we are usually go to bed by 10:00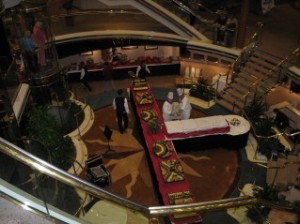 p.m. kind of folk, but after the evening show there was a special event planned for 11:30.  A Chocolate Buffet!!  'nuff said, right?  Oh, my goodness, they set the buffet up in the Centrum, which is a large open area in the center of the ship that is open from deck three through deck five.  There was chocolate, and ice sculptures, and chocolate, and fancy desserts, and chocolate and wax carvings and chocolate for three decks!!!!  This picture was taken in the very early stages of the thing being set up, but I think you get the idea.  It was a LOT of chocolate!
Our last port of call was Ensenada, Baja California, Mexico.  We woke up to a
rather chilly, but sunny day.   We signed up for a bus trip to see one of only three (or is it four?) blow holes in the world.  This one, La Bufadora (or buffalo snort) is supposed to be one of the most impressive.  We weren't overly impressed.  It's pretty cool, I guess, that there's a cave below the water line, and as the waves come in there's some sort of suction or something that happens causing the water to spew up in a mist and for there to be the "snort" noise.
To get to La Bufadora, we took a 45 minute bus ride through Ensenada and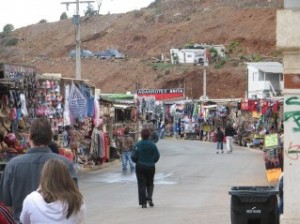 through the surrounding countryside.  Our tour guide gave us all sorts of interesting facts about the city and the surrounding area and pointed out such points of interest as Smart & Final, Home Depot and Costco!  I kid you not!!  After arriving at La Bufadora, we walked through a very large open air market place to get to the blowhole, with the vendors handing us coupons and bidding us shop at their store on our way back to the bus.  We had heard, of course, about how poor these folks were; but we did not find that to be true here.  Most of the shop keepers were dressed in new Nike tennis shoes and trendy American clothing.  Another telling feature was the fact that they were not willing to bargain much on their extremely overpriced merchandise.  It may have been because we were the first bus tour down there for the day.  We did come away with two Mexican blankets for the boys, and a new silver belt buckle for Copper.
The bus then took us to downtown Ensenada for a Mexican Folkloric show.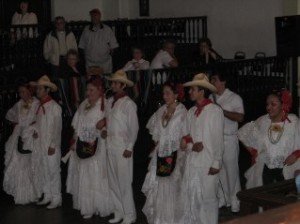 The show featured eight dancers, one singer, a man doing rope tricks and a mariachi band.  It was a wonderful show, and was a nice end to our stay in Mexico.  We took the bus back to the ship in time for lunch.  By early afternoon, the skies were very dark and threatening and it was COLD!  I've already told and shown you how we spent part of the rest of that afternoon!   We packed most of our stuff early, before dinner.  I'm glad because as soon as we headed out to sea, just before dinnertime, we encountered some very rough seas!!!  We found it necessary to hold onto the rails along the walls as we walked and riding in the elevators was a thrill ride!!!  Lots of folks were sporting those nifty behind-the-ear-seasick patches, but Copper and I did okay.  We sat near the back of the theater for the show that night and it was funny to watch the entire audience swaying to and fro together!!
I think that the captain decided that the rough seas were more than his land-lubber guests could bear, because when I woke up at 5:00 a.m., we were already docked in San Pedro!!  We weren't expected in port until about 7:00 ish, and by 5:00 we were in and moored fast!  We had a rather late breakfast, since we had been assigned to the very last group that would disembark, and then relaxed and chatted with other folks in one of the lounges until our group was calledto disembark.  After passing through customs, we took our shared ride van (even worse than getting to the ship) back to LAX.
After checking in our luggage and making our way through airport security, we arrived at our gate in plenty of time for a quick bite of lunch at the airport.  We ended our trip on what many might consider a low note, but for Copper and I, it was pretty normal and felt like home — We had lunch at McDonald's!!!!  The flight home was rough, but short; and the kids were such a welcome site waiting for us at the bottom of the escalator!  (note to self:  remember that prices at LAX will be about 50% higher than elsewhere, even at McDonald's.  Oh, and that the airport Starbuck's do not have to rely on repeat business and may slip soy milk into your mocha frappucino
)
The Lord, in His mercy, allowed us to have a safe journey and a wonderful time, despite Copper's ongoing health problems.  He did use his pain medication quite a bit while we were gone, but felt pretty well most of the time.  In fact, he said he felt great all day the day we were in Mexico.
All in all, I have to tell you that we had a blast!!  The time away together, and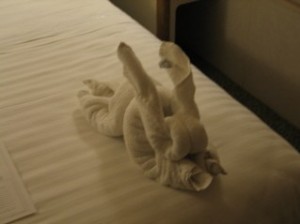 taking things at a fairly leisurely pace, for the most part, was wonderful.  The cruise ship staff, from the bus boys to the cabin attendants, and right on up the line, were all friendly, pleasant and very courteous and helpful.  We were treated like royalty (our cabin attendant folded a towel into a cute animal shape for us every night!) and all for peasant prices.  Honestly, Copper did the math and this was a very economical way to travel, since everything was included (save for the shore excursions we took).   Wonderful food, great entertainment throughout the day and throughout the ship, top notch service and travelling by sea!  We would definitely like to save up and take another cruise again someday!