A few years ago I found a few snowmen at an after-Christmas sale.  They were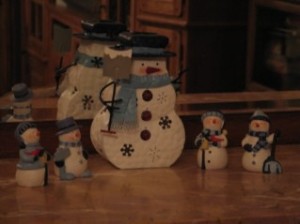 white with pretty light blue accents.  I really had never looked at including snowmen in my Christmas decorating, but these fellas just really appealed to me.  Since they were 75% off, I splurged and brought them home.  I put them out on the window shelf over my kitchen sink that looks into our living room.  We liked them so much that they stayed out for the rest of that January.  A new tradition was born!  These are my original snowmen.  This year they are on one of the sideboards in the living room.  The larger one in the center holds a tea light candle.
Since then my snowman collection has grown a bit, mostly from generous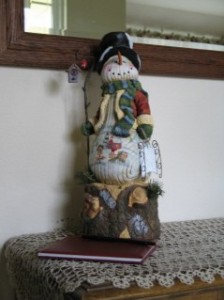 friends and family members gifting them to me.  It's so nice to have a few pretty things that say "winter" to put out when all the lovely Christmas decorations are put away.  This is my newest snowman.  He was given to me this year by Copper's dad and his wife, Meg.  He's nice and tall and I think he's perfect to greet guests in the entryway right by our guest book.
These folk art style snowmen are on a small side
table in the kitchen.  The two smaller ones were crafted by a good friend of my two daughters.
Copper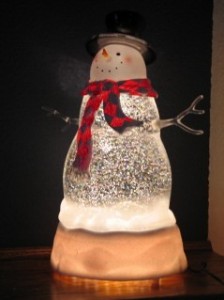 bought this lava lamp snowman for me three years ago.  We love watching the glitter in his body move slowly about!  This year, he is on the mantle and we leave him plugged in all day and evening.  He's quite tall, about 24″, I'd guess.  I think he's a lot of fun!
This bubble light snowman was a great find last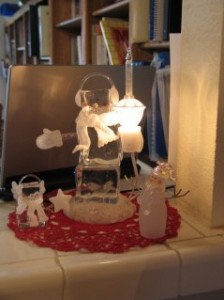 February!  Copper spotted him all alone and unloved with a lot of other long leftover Christmas stuff at Bed, Bath & Beyond.  He was the last of his kind and Copper carried him all over the store until he could find an outlet to plug him in to be sure he worked.  I love that man!   The snowman was marked way, WAY down, and I absolutely love him!  I had the other two little clear-type snowmen already and they are happy to keep their bubbly companion company.
The balance of my little collection is displayed this year in the window over the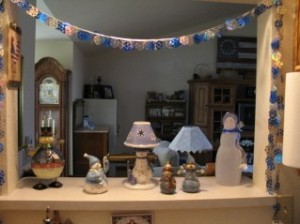 kitchen sink.    The center snowman will hold a tea light candle in the blue shade over his head.  I also hang a bit of blue and silver snowflake garland in the window to add to our winter decorating!  Having the snowmen to look forward to every year makes putting the Christmas things away a bit easier.
Remember my recent post about wanting to break out of my cooking rut?  I've already prepared four new recipes for my family!  Even better is the fact that all four recipes were deemed "keepers".  Okay, honestly?  The kids definitely did NOT vote for tonight's brussels sprouts recipe to be a keeper, but Copper and I liked it so it stays! 
All four recipes were from back issues of Taste of Home Magazine and so are copyright protected.  However, I can give you the links for all four!
Ham it Up Spaghetti (this was wonderful and fed us one dinner and one lunch)
Lemon Garlic Sprouts
Red Potato Wedges
Turkey in a Hurry (For some reason the recipe for the family version of  this recipe is on a site for magazine subscribers only.  However, this version is available to everyone .  The ingredients I used tonight are identical to this two person version, just doubled.  We had one small piece of turkey tenderloin left over.)
My daughters were laughing today that I divulged my age in yesterday's post.  In all actuality, I did NOT really divulge any such thing!  I simply mentioned that my husband had been working a LOT of overtime to surprise a certain someone for their 50th birthday!
I'm not at all shy to admit that I will be 50 very soon!!  My dad was 50 when I was born, and I did not realize that my Daddy was older than everyone else's dads until I was a grown woman and he turned 75!   It's all a state of mind, is it not?
In any event, Lord willing and Copper's health holding out, we will be needing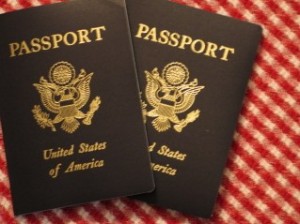 these next week!  I'm nervous and excited all at the same time!  We are not seasoned travelers, by any stretch of the imagination.  Our vacation travelling has always been with the whole family, and usually involves a tent and camp stove!  In fact, this will be only the second time in recent memory that Copper and I have been away together, alone.  We're not going far, just far enough to require a passport (though we were told today that the passport requirement has been waived for yet another year!).  My husband has worked very hard and a lot of long overtime hours to gift me with this trip.  I am praying that his recent health problems will still permit us to make the trip.  So far, it's looking pretty good. Where are we going????  heeheeheee……I'll tell ya later!
God bless you as you look well to the ways of your household!
Proverbs 31:27
Remember to pray for Karen!