What's new?  Lots!!!  Here's just a sampling of what's new in my life.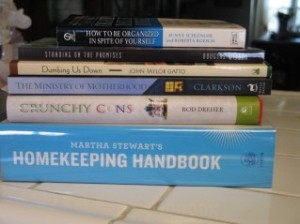 A stack of new books!!  What could be better than that???  These were all Christmas and birthday gifts.   Of course, it will take me months to get these  read.  As a matter of fact, only one of them (Crunchy Cons)  has even made it as far as my reading basket.  With wonderful titles like these waiting in the wings, I'm sure I'll be motivated to keep reading through my existing reading basket titles!  (Like I ever need motivation to read!!!)  I have to tell you, I'm really itching to get a couple of these – Martha's Homekeeping Handbook & John Taylor Gatto's Dumbing Us Down – into my basket.  I'll have to finish up the Homemaking and Homeschooling titles I'm already reading first!
A new snowman!  This cute little guy was given to me  by a couple of friends from church this week who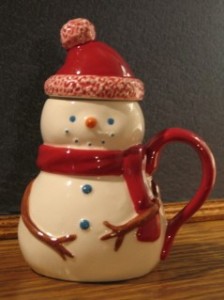 remembered that I decorate my home with snowmen in January.  I am really enjoying this little guy!!  He's absolutely adorable sitting next to the lava lamp snowman on the mantle.  With his hands on his belly, he looks like he's chuckling.  Too cute!!   Thank you so much, girls, your gift is precious to me!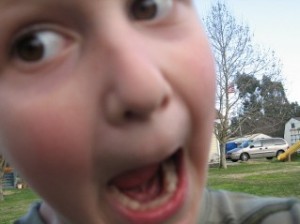 A cute kid!!  Okay, this guy isn't new, but he's still cute!  Life with my eight year old son is new every day.  I just never  know what to expect each and every morning.  Thanks to  my recent reading of The Out-of-Synch Child, I'm beginning to understand some of the things that make him tick.  It's so great to finally have some insight into what sorts of things he just cannot tolerate, and to find some encouragement on how I can help him learn to overcome those things.  Like I said, new every day!  He's absolutely DELIGHTED right now because his third grade math has been ordered and his Spanish curriculum arrived yesterday.  Don't you just love homeschooling?  Our mail lady and our UPS guy love coming to my house with packages because my children always rush out to meet them as they drive up the driveway.  They both know we homeschool, and you know, I think they get it!   The mail lady asks me, frequently, "Where do you keep all these books?".  I'll have to invite her in one of these days to see the schoolroom!
Library Software!  Thanks to the generosity of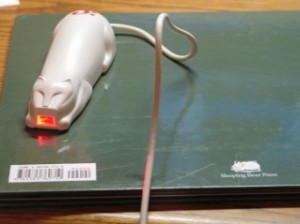 Copper's Dad and his wife to me for Christmas and my birthday, I was able to purchase Readerware.   Oh, I have wanted this program for ever so long!  I haven't had much time to work with it yet, but I am so very much looking forward to having our entire home library once and for all catalogued!  So far, I only have two shelves of geography books entered.  I was able to purchase the bundle pack so that I can put all of our CD's and DVD's, as well as all of our books, onto a database.   The bundle pack also included this bizarre looking bar code scanner.  It's called a Cue Cat.  I'm not really much of a cat person anyway, so this device with its glowing red anterior is a bit much for me.  However, it does make entering the books into the database a snap, so maybe this will be the turning point in my relationship with cats!
I really do love this software.  It's easy to download and use and will really save so much time in searching for books in the future.
God bless you as you look well to the ways of your households!
Proverbs 31:27
Remember to pray for Karen!