The fifth week of each month (for those months that have fifth weeks) is the time that I concentrate on my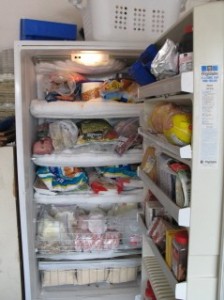 garage and outside storage areas.  Since these areas are not part of the house proper, I can let the chores that need to be tended to less frequently than weekly go until there is a fifth week.  However, that does NOT mean that I can let them go indefinitely.  My big freezer is in my garage.  It was way, way, WAY past due for defrosting and a good cleaning.  There were layers of ice a few inches thick on the shelves!  Yuck!!!  I know that a defrosted freezer is more energy efficient than an icy one.  Since our poor freezer is well over 15 years old, it needs all the help it can get to be energy efficient!!
Yesterday was a beautiful day here; so, after putting a nice chuck roast in the crock pot for dinner and starting the first load of laundry,  I rolled up my sleeves and went to work.
After pulling out every ice chest we own and emptying the freezer's contents into the ice chests, I turned off and unplugged the freezer.  Leaving the door open, I began filling all of my large bowls with boiling water and putting them into the freezer.  I'd let them set for awhile, and then dump the cold water out and repeat the whole process.  I kept at least one of our big pool towels at the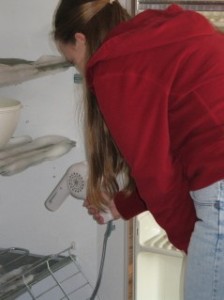 bottom to catch the dripping water.  These needed to be taken out and wrung out frequently throughout the day.
By mid-afternoon, things were coming along nicely, but Dani and I decided to speed things up a bit.  Dani  manned the blow dryer, while I used a cup to dip into the bowls of hot water and then pour the water over the areas of thick ice.  That got things moving right along!
By 3:30, the freezer was defrosted.  I had already sprayed and wiped down all of the door shelves.  Dani used our one last dry pool towel to wipe down the inside of the freezer.  I loaded everything back into the freezer, plugged her in and turned her on!  While it was so desperately in need of defrosting, things were put into the freezer wherever they would, fit and not where they belonged.  Things get lost in the freezer that way and then ruined.  It's so nice to have things in the freezer in an orderly manner.
Just as we were finishing up defrosting the freezer, Copper devised
a way of fixing one of the shelves on the freezer door, and then jury-rigging the bottom door shelf.  It has been broken for so long!!  Every time I'd open the freezer door, all of my big Costco jars of spices would hit the deck!  My wonderful husband has it all fixed up for me now, though!  Hooray!!  It ain't pretty, but it works!!
I can now check "defrost the big freezer" off my annual garage chores list!  How wonderful knowing that one big, nasty job is behind me for another year (or two, or three, or……
)
Here is my freshly defrosted, clean and organized deep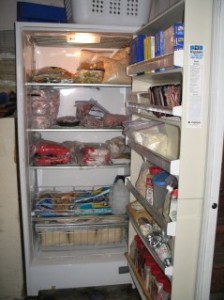 freeze.  I've been unable to really stock up on good sales recently because of the sad shape of my freezer.   Now, though, my freezer is ready to receive any great sale items that I can find!  (Bummer – there wasn't much in this week's ads!)
God bless you as you look well to the ways of your households!
Proverbs 31:27
Remember to pray for Karen!