Inspired by a wonderful dish that we enjoyed on our cruise, and determined to introduce some different foods to my children, I made this dish to go along with our crock pot  chuck roast last night.  It was quick and easy to prepare, and it was delicious.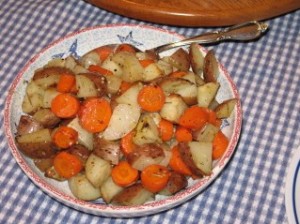 Easy Roasted Vegetables
5 or 6 medium size red potatoes, scrubbed and cubed (approx. 1″ size pieces)
2 turnips, peeled and cubed
5 carrots, peeled and sliced into 1/2″ slices
4 Tablespoons olive oil
1 Tablespoon minced garlic
1 teaspoon dried rosemary
1/2 teaspoon salt
1/4 teaspoon pepper
Place potatoes, turnips, carrots and garlic into 9 x 13 baking dish.  Drizzle olive oil over all.  Crush the dried rosemary in your hand and sprinkle the rosemary, salt and pepper over all.  Toss vegetables to coat in oil and seasonings.  Bake uncovered at 350° for 35 minutes.  Turn the oven up to 450° and bake for 12 minutes longer.  Toss before serving.
Makes about 8 servings.
************************************************************
The dish we had on the cruise included potatoes, turnips, parsnips and beets, but was prepared, essentially, the same way.  I may try adding the parsnips and/or beets next time.  I'll wait and see what the prices look like in the produce section first.  Before you turn up your nose, you need to know that I *thought* that I didn't like beets until I had them on the cruise.  They were great, and they added a nice bit of color to the dish.  Try something new!