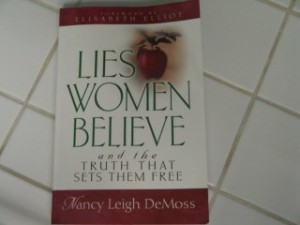 Before I begin, I want to tell you that I had made up my mind to not like this book.  I don't know why. Perhaps I was put off by the fact that the author is a single, younger woman. That certainly smacks of pride now, doesn't it?  Ugly, but I'm trying to be honest.  However, before reading the book I flipped to the back and read the several pages of "Resources" listed.  I was impressed with the books and authors represented there, so I halfheartedly started to read the book.
"Deception has endless variations, which Satan tailors to our natural bents.  Like a seasoned fisherman, he selects the lure that he knows is most likely to attract his intended prey-the one we are least likely to consider harmful.  He does not care what we believe, as long as we don't believe the Truth.  The Truth is the only thing he cannot withstand; it causes his kingdom and his control to crumble."
That quote, from one of the final chapters of Nancy Leigh DeMoss's book, Lies Women Believe and The Truth That Sets Them Free
describes, in a nutshell, the complete text of her book.  One by one, Miss DeMoss exposes the lies that women are most apt to believe.  The lies that we least expect to be vulnerable to.  Lies such as: God doesn't love me.  I'm not worth anything.  I should not have to live with unfulfilled longings.  I don't have time to do everything I'm supposed to do. (Ouch???)  If I submit to my husband, I'll be miserable.  Children need to get exposed to the real world so that they can learn to function in it. (If I had a dime for every time I've heard that one!)  If my circumstances were different, I would be different.  That was just a small sampling of the 40 common lies that Miss DeMoss exposes in her book.
But exposing the lies is not enough.  Fortunately, Miss DeMoss goes further and sheds the light of Scripture on each and every one of these lies.  She wields the sword of Truth well, and uses Scripture, not psycho-babble or popular Christian thought, and Scripture alone to dispel each and every lie.  I have to admit that I found it very refreshing, in this day and age of Christian counselors relying on secular thought, to find that Miss DeMoss relies on Scripture alone to expose and refute the lies she includes in her book.
I would have benefited greatly from Lies Women Believe and The Truth That Sets Them Free
many years ago as a young Christian, young wife and mother.  Fortunately, God delivered me from the lies I believed then; but having experienced believing those lies for a time, I understand the importance of a book like this for women.  In God's perfect plan, there would be an older, more mature Christian woman to come along side of other women to show them the Truth of God's Word when they stumble in these areas.  However, the church has strayed away from producing these Titus 2 women, making a book like this even more important.
The final chapter of this book, "The Truth That Sets Us Free" is a remarkable resource.  In this chapter, Miss DeMoss gives us 22 of the Truths from the previous chapters that she considers most vital for women to truly grasp and understand.  She suggests, perhaps, memorizing them.  You know what?  I think I'll try to do that very thing, along with the Bible text she gives to support each Truth.  Not only will this list of Truths hidden in my heart support and encourage me, I will also have them hidden away for the times that the Lord brings other women into my life that might need to hear these Truths as well.
I do want to say that there is one aspect of this book that I did not particularly care for.  It probably would not bother most, and might even be pleasing to some.  Every chapter of the book is begun with a fictitious, private journal entry, as though it were written by Eve.  Miss DeMoss uses this literary device to set forth how the lies Satan uses against us even today are the same lies he has used since Creation.  However, this just did not set well with me for some reason.  I'll chalk it up to personal preference.
All in all, though, I do believe that Lies Women Believe and The Truth That Sets Them Free
Lies Women  Believe…. is a wonderful resource for women.  Understanding the lies Satan will use and, more importantly, having a firm grasp on the Scriptural Truths that can dispel the lies, will keep you, and me, from stumbling as women, wives, and mothers.
God bless you as you look well to the ways of your household!
Proverbs 31:27