She surely did, and she was right!  We introduced a couple of new things into our homeschool day today.  Introducing anything new, of course, is quite a disruption for the eight year old.  By God's grace, I pray that he will, someday, learn to handle change without so much despair.  I know that perseverance is my best course of action.  So, we will just keep moving forward, helping him to adapt to the new routine and doing what we can to soothe him during the rough spots, without allowing him to be sinful in word or deed.  Sometimes that last part is a tough call; but I'm trusting God for discernment.
On the other hand, my older son seems to be doing well with the new additions.  He flew through his work in our new spelling program
, and he did quite well with the first lesson in Latina Christiana
.  We're also ramping up our writing program a bit, and that went very well for both boys.
We are back on track with our read-alouds and have added in some time in the morning to review the past Sunday's teaching and to prepare for the coming Sunday's teaching.  I think this will be a great time for us!
All of this kept me very busy in the schoolroom today, though; with not quite enough time at the end of my day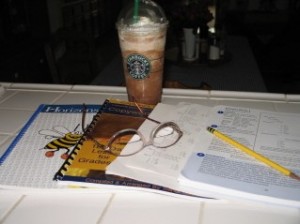 to accomplish all of my homekeeping tasks.  I know that once we've become more familiar with our new homeschool acitivities, that I'll be able to restructure my schedule just a bit to get everything done.  In the meantime, I'll prioritize each day's tasks and just do what I can.
I love my husband!!
I think he knew we were having a tough day.  While he was in town running some errands, he picked up Starbuck's for me!!!  There's nothing so wonderful on a tough day as a venti mocha frappucino with whipped cream on the top!!  Calories???? Nah, no calories!
Tonight's our date night, too.  Looks like the day will be ending nicely after all!
God bless you as you look well to the ways of your household!
Proverbs 31:27
Remember to pray for Karen!