Since I painted my dining area wall red, the red roses I've kept in my old scale have not been quite as pretty.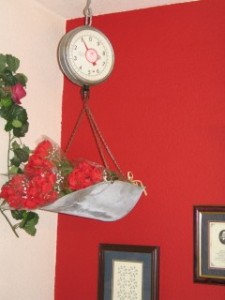 In fact, the red roses against the red wall were driving Dani nuts!  I bought the roses last year a week or so after Valentine's Day for 90% off the $4.99 price tag.   At just 50¢ for a bunch of nine long stemmed silk roses, with a bit of baby's breath mixed in for good measure, I bought several.   I removed most of the bunches from their cellophane wrappers and put them in crystal vases throughout my home.  However, I left five bunches in their cellophane and placed them in the scale.  I liked the farmer's market look!  These roses are so nice that I have had visitors to my home lean in to sniff them!!  (This picture does NOT show the true color of my red wall!  Goodness, this makes it look fire engine red, rather than its truer, deeper red shade!)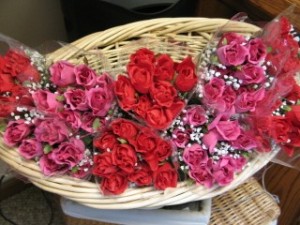 Dani went to town on Thursday and made a stop at JoAnn's.  Last  year there were only red roses left by the time I ventured in, but this year, on the day after Valentine's Day, they had a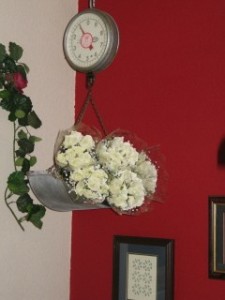 lovely dark pink and white as well.  They were only marked to 75% off, but I had her pick me up a few bunches each of pink and white.   They will likely be reduced to 90% in a few more days, but I didn't want to chance missing out on the pinks and whites this year.  Still a good deal at $1.25 a bunch (14¢/stem), these will be nice to have on hand to cut apart for wreaths and other craft projects later in the year.
The five white bunches, though, went right up into the scale.  The white against the red wall is very pretty, and I  still have my farmer's market look!
When we built our schoolroom a few years ago, we had the  contractor include two skylights.  While the schoolroom itself has three nice windows, and the adjoining mudroom also has a window and a
large sliding door, we were concerned that our living room and dining area would be too dark.  The schoolroom was built where an existing covered porch had been, so we were used to those two rooms being rather dark; but we wanted to be sure to not make matters worse.  I thought that the two skylights, one placed over the breakfast bar opening into our dining area and the other placed just over the doorway between the schoolroom and living room, would give us some good, natural light during the day.
Well, they do!  However, the one skylight is almost at the top of a very high roof peak.  What that means is that it is very hard to get up in there to get the cob webs!!!!
Yesterday I prevailed upon my thirteen year old to do the job for me.  It required Copper's tall ladder and a bit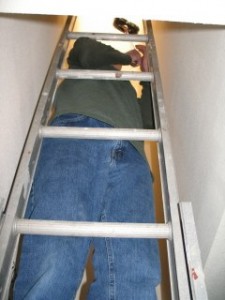 of courage to crawl way up into that very close area.  You can see that even though he was way up on the ladder, he still had to stretch with the webbing brush to reach.   Dani and I stood below, ducking the cobwebs and dust he was sending down, and pointed out places for him to reach up and brush.  He was a good sport, even though it was hot and stuff way up in there!
He did a good job, and cleaned up his mess when he was done. 
Well…….after being reminded.
God bless you as you look well to the ways of your households!
Proverbs 31:27