Providence – I love discovering the Lord's leading and direction in the little things of my life.  I've had this  book, Idols of the Heart: Learning to Long for God Alone
, on my "must read" list for some time.  Providentially, owning the book and rotating it into my reading basket coincided with our pastor's series on the Ten Commandments.  The book deals primarily with the first commandment, and our pastor has been discussing this for the last couple of weeks and will be doing so for at least one more Sunday.  How cool is that?  I'm gaining so much insight into this!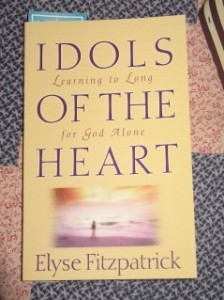 Healing – We are continuing to mend.  My eight-year old is responding well to the antibiotics and is feeling better day by day.  The thirteen year old still has a horrid cough, but we are giving him nighttime cold medicine to help him get a good night's sleep.  He's doing much better, though the cough lingers.  Dani feels pretty good, most of the time, but still has puny days.  I'm feeling okay, but my asthma has gotten pretty bad.  I'm back on two inhalers and my doctor said yesterday that my chest "could sound better".  If the inhalers don't start giving me more relief, we'll have to treat the asthma "more aggressively".  I'm thankful for good doctors, clear x-rays, and good medicine.  Corin's family continues to struggle with the stomach flu, though they are doing better, too. Somehow, my beloved husband has remained healthy through it all.
Homeschool High School – I've started doing some planning for my son's high school years.  It's exciting and sad, all at the same time, thinking about his starting 9th grade in the fall.  I'm enjoying pulling some books off the shelves for him, and I'm enjoying looking for a few new resources for him as well.  He's on the brink of manhood, and it's an exciting time!  I've done this with two daughters, but it's feeling very different with my son.
Sewing – I still have not finished my Christmas IOU's. What with Copper's long kidney stone adventure,  taking the cruise, and various and assorted other illnesses, injuries and interruptions, they languished for weeks. However, I have made great headway on projects this week, and am hoping to begin making good on the IOUs this next week and having them all cashed in soon.  I'm loving being back at my sewing machine!!  I'm already thinking about what I want to do or make when I have these current projects done.  My knitting needles and embroidery hoop are itching for some new action, too.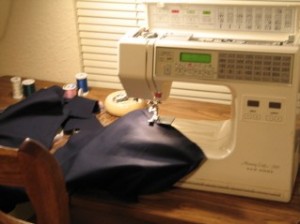 Planning – I've always got something in the planning stages!  I have a bit of changing around that I'd like to do in our weekly schedule.  I need to finalize all of that in my mind and then see what Copper thinks.  I've also made some mental plans for two of our bathrooms.  We've had several things purchased for the main bathroom for quite awhile now (sink, light fixture, new faucets, towel bars, etc.), but the project has never been done.  With the porcelain chipping off the sink by the inch now, and with water getting in between the layers of the Formica countertop causing it to swell, I think the project may be becoming a priority. Time to save up for the last required elements (tile and paint) and get the job done!  In the meantime, and always planning at least two rooms ahead, I picked up some paint chips for my oldest son's bathroom – a dark blue, tan and cream color scheme are currently my plan.
Celebrating – My eldest grandson was five years old yesterday!  Wow!  Talking about how time can fly!  Check out his portrait!  He's a handsome boy!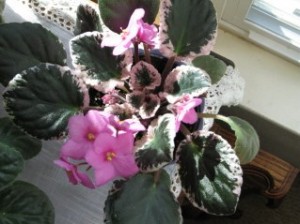 Hints of Spring – Kelli thought that our new lambs were a sure sign of spring.  Well, the spring like weather we've been enjoying has given way to freezing overnight temperatures and lots of rain in the forecast.  Okay, it is still February and we really NEED the rain here.  While we are still in the midst of winter, I couldn't resist this beautiful African violet at the store.  Check out the beautiful pink variegated leaves!  Stunning!  I now have six violets in my parlor.  Three are blooming and the other three have buds coming up!
Catching Up – I fell behind on home keeping this week.  Time to catch up!  See ya later!
God bless you as you look well to the ways of your household!
Proverbs 31:27