Coincidence?  Or God's Providence?  The Westminster Catechism says that God's Providence is His completely holy, wise and powerful preserving and governing of every creature and every action.   Every creature.  Every action.  It's God in the details.  It's been my experience that God's providence is most often evident to me in the little things He orchestrates for my, or my family's, good.  I've shared recently how this was evident in the delay in getting a message to our family doctor.  I clearly saw His hand when my youngest son was injured last fall.  But those were more of the "big", easier to see things in our lives.
When I'm paying attention, I see God in all the little details of my life, too.  The little things that others call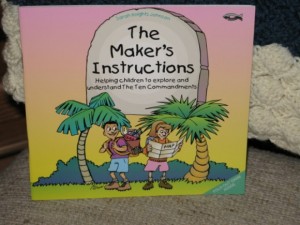 coincidence,.  I try to recognize these incidents for what they are – providence.  A friend's son remarked to me last Sunday how neat it was that the memory verse we are all to learn together this week was one that his family had already been learning from a song.  It delighted his heart, and I saw that as providence.  Last Sunday, our pastor also announced that he was beginning a series on the Ten Commandments.   Last week, when I ordered the eight year old's Spanish from The Timberdoodle Company , I totally forgot the fact that they include a free book with every order.  I was delighted then, on Monday, when the free book that came with our order was The Maker's Instructions: Helping Children Explore and Understand the Ten Commandments
!!  Providence!
Sometime's God's hand in my life, on a day to day basis, is harder to see, probably because I don't look for it.    That's why it is all the sweeter when I catch these little glimpses of His provision for my family and others.
God bless you as you look well to the ways of your household!
Proverbs 31:27
Remember to pray for Karen! (updated!!)